It's a challenging time for mobile network and broadband operators. People everywhere are staying at home to protect their health. Most moved the biggest part of their lives to the digital space: work, keeping in touch with family and friends, entertainment. Data usage has skyrocketed, putting additional strain on telecoms – operations- and CX-wise. All of them have been focusing on a smooth network performance and customer experience by handling the increased number of technical issues and inbound call centre calls in an efficient manner.
Many operators urgently improved their capacity to service clients through digital touchpoints and put out additional free offers to help customers cope with the unusual times. While everybody hopes the crisis will be over soon, business leaders in the industry can't help but wonder if the world will ever come back to what it used to be. Or will some changed behaviours and attitudes be permanent? There are pitfalls to be mindful of now, but there are also opportunities and using the pandemic as a catalyst for change is something many experts are predicting is going to happen across the industry.
Impact on Existing Analytic Models and Research Data
The world is changing at an unprecedented pace. Research done a few months ago is no longer relevant. Customer behaviour has changed drastically. Everybody is urgently conducting corona virus-related research, but analysing the data to examine recent changes to attitudes and needs might be hard.
The above is very accurate for existing analytical models. Churn models trained on data from previous years will not identify today's correct predictive variables. The output might be inaccurate, misleading or wrong. An important perspective to focus on is the data that is being created and the implications for its use once the crisis is over.
Furthermore, we have to think about the data that is being created now and the implications for its use once the crisis is over. If we train a propensity-to-upsell model on data from the pandemic period and expect it to predict correctly once it is over, we should rethink what we are doing.
We need to carefully evaluate current models and workflows and think twice about how are we applying them to the current situation, then do this again after the quarantine period is over.
3 New Modes You Should Start Working on Right Now
Despite the grim prognosis for many, now's the time to implement new models and workflows.
Improve the accuracy of churn models
As mentioned above, propensity models based on outdated data won't be accurate today, but many telcos report underperforming churn models for a while. A beneficial actionable plan for both during and after the COVID-19 crisis would include:
Reimagining workflows and better targeted initiatives
Adding additional data inputs, like CX data increase accuracy of predictive models
Using advanced, dynamic and precise methods of calculating customer lifetime value to help prioritise who to target first
Utilising next best action models to equip agents with the right tools to engage customers and increase success rate, leading to more retained revenue
Omnichannel Call Deflection To Engage Customers in a Cost-Effective Way
Higher usage leads to rising numbers of inbound calls. This is putting a strain on call centres. An area to focus on today is omnichannel-driven call deflection strategy. Combining digital, call and other data allows us to leverage predictive models which tell us who is going to call, when and why. This allows for a proactive engagement with the customer in a more cost-effective way, like email, text, etc. Ultimately, this will achieve lower costs and а positive impact on the bottom line.
Optimising the Digital Journey to Reduce Inbound Calls and Improve Customer Experience
Optimising digital journeys is also a straightforward way to reduce inbound calls and improve customer experience. With the rising number of interactions customers are having with their telеcom providers, there is an opportunity to focus on using data to enhance the digital experience of customers and improve their journeys. Finding where journeys break down and fixing them greatly lowers the strain on call centres.
Telecoms and their services are vital in times as these, where most of us are confined at home. What companies are doing right now – how they handle customer complaints, what value do they provide; will have a lasting impact on their brand and business performance. If customers even suspect a company of putting profit before people in these trying times, they will remember it for years to come.
We have to be mindful of the problems that are present in the short term but also of the opportunities, and how can this extraordinary time can be used by telcos to shift gears and improve the way customers are being served through enhancing digital experiences.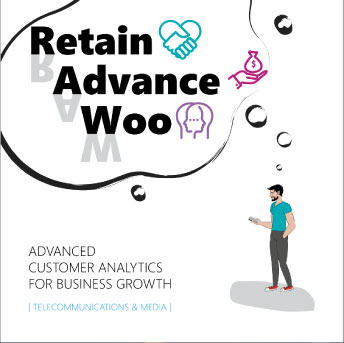 Advanced Analytics in Telecommunications
Everything you need to know about implementing advanced analytics in your organization in one playbook.