Being a healthcare provider compels a continuous learning journey for one to stay up to date. From acquiring the necessary medical knowledge and skills to practise medicine, to gathering the expertise to build up professionalism and competence in one's field of practice. The knowledge goes beyond maintaining competence. To increase patient outcomes, improve patient experience in healthcare and safety/ overall quality, and answer today's health challenges, one must keep-up with the new developments and advancements in the field. A study, conducted in 2010 by the Global Independent Commission on Education of Health Professionals, concluded that the purpose of the healthcare providers was to improve the health of communities.
What is Healthcare Education?
To practice medicine, healthcare providers receive a variety of education and trainings: clinical, procedure technical education among others. In most countries, health providers must take an exam to receive a license prior to practicing medicine. Afterwards they have to acquire a number of credits through continuous medical education/continuous professional development (CME) courses to maintain their license (e.g. 100 CME credits for radiologists every two years in Massachusetts).
Often these requirements include other topics besides preclinical & clinical education such as courses in cultural competency (e.g. District of Columbia). The guiding principle to keep up with the developments in the field as well as to maintain an active license through CME credits is not reserved for physicians only, but for nurses and technical staff (e.g. sonographers).
Some of these types of education currently are delivered through:
Conferences
In-person and virtual classrooms
Online courses
Self-learning materials, etc.
The COVID-19 Impact on Healthcare Education
However, the novel COVID-19 required immediate actions to minimise the spread of the disease. The coronavirus transformed some traditional ways of delivery such as in-person visits and F2F instructor-led sessions to online ways of learning. As an example, the ERS Conference 2020 was expected to have more than 20,000 participants fly-in to the conference, but was organised as a virtual one.
Healthcare Systems Respond to Healthcare Education Needs
The University of Stanford was among the first high education schools to recognise the need of specific knowledge and thus provided it through the online educational platform Coursera. Such online trainings appeared in multiple platforms, preparing physicians, nurses and healthcare professionals for what COVID-19 brings through evidence-based approach. Going through preliminary training provides for better patient outcomes and better patient experience in healthcare while the pandemic is in full swing.
In a recent study, analysing the impact COVID-19 has on healthcare education, GemSeek focused on health providers' point of view. The study included more than 500 healthcare providers and was conducted in 6 different markets. Respondents had to answer a simple open-ended question, on what they thought would be the impact of the COVID-19 pandemic in regards to healthcare in the next two years (Table 1).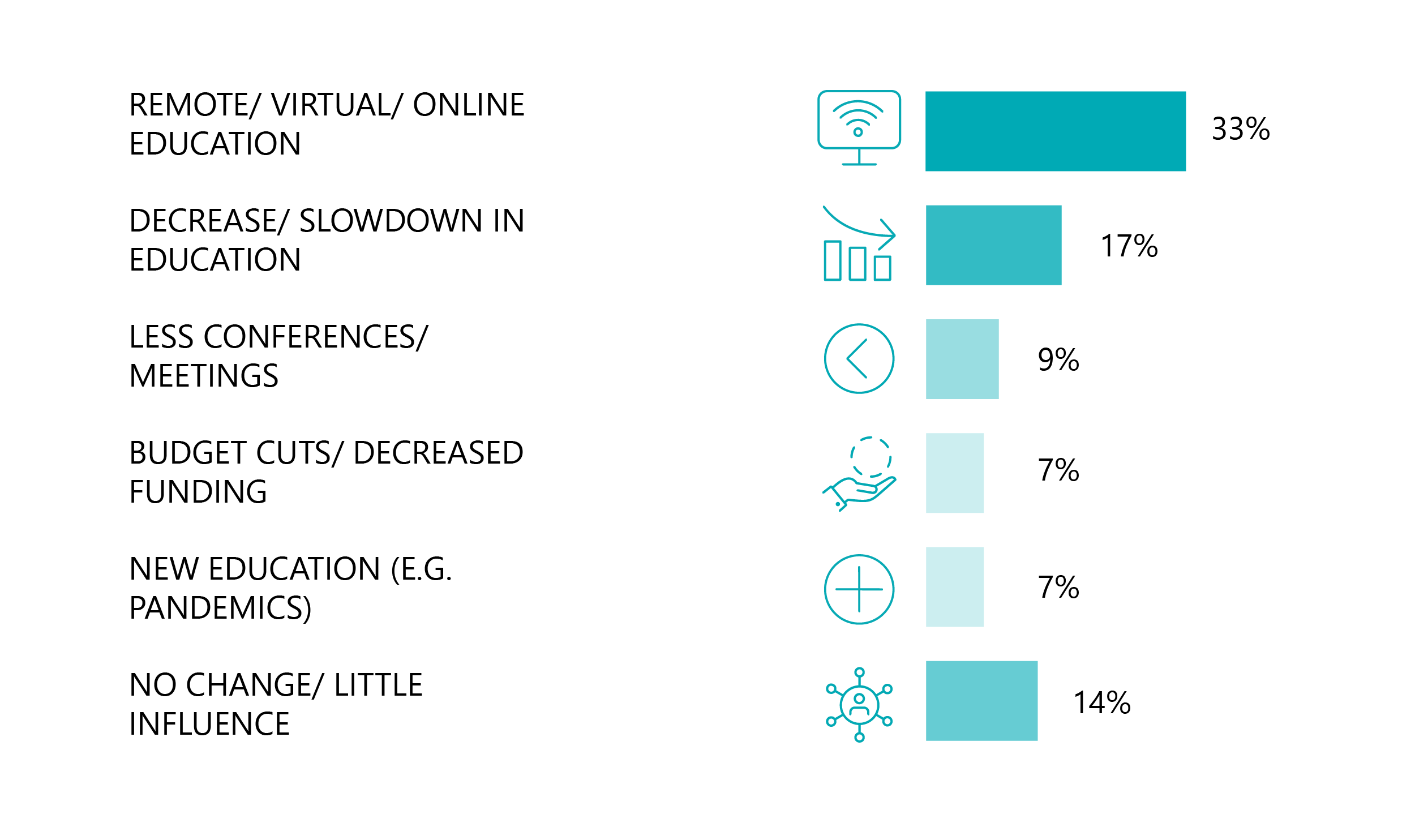 One third of the respondents argue that there will be more remote, virtual, online education in the next two years as a result of COVID-19.
Around 20% of the respondents think that there will be a decrease and slowdown in education while circa 15% think that there will be no or little change in the next two years.
Other impacts from COVID include less conferences, less budgets to spend on education and new education topics (e.g. on pandemics).
While discussing how is the COVID-19 crisis changing health professions education, James Gordon, Chief Learning Officer at Massachusetts General Hospital, said:
"I see this crisis serving as a forcing function that will reshape — and enhance — the infrastructure of our educational landscape."
To conclude, the pandemic is already serving as a catalyst for healthcare education providers to transform the delivery of education from more traditional face-to-face and in-person to virtual and online ways of learning. Although most of the health providers are very keen on having on-site workshops and travelling to conferences, we have to adapt to the new norm.