Non-complaining customers, still to this day, take a large chunk of your customer base. They do, despite of companies using customer experience analytics, cause massive damage than the complaining ones. Here's why you need to take care of them.
Proactively ask your customers to voice their concerns
Whether complaining customers are not what every business owner ever wished for, they are, however, a reason to explore the science of customer satisfaction.
Use surveys to understand customer intent better
Whilst you can't survey your entire customer base every month, you can still gather vital information that can help you connect some dots and fill-in the gaps.
Include predictive customer experience analytics
Don't wait for an increase in churn numbers to take action; start addressing potential issues before they occur.
Stay alert for lower number of complaints
Silence can be interpreted both ways: fantastic service and/or product, or passive customers who would rather leave you, instead of voicing out their concerns.
The Customer Complaint Iceberg: "No news is not necessarily good news."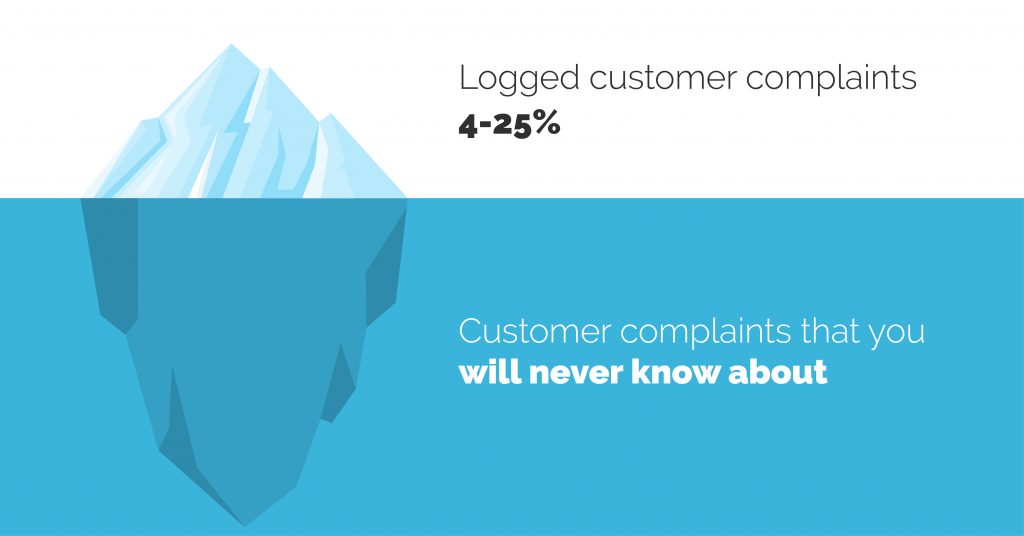 In a 2006 research, Goodman explains the concept of the customer complaint iceberg.
Up to 5% of unhappy customers, or the tip of the iceberg, complain to management or headquarters. About 45%, positioned in the middle of the iceberg, complain to a branch, frontline or an agent representative. These encounter for 75% of business-to-business transactions. The remaining 50% are the silent customers who don't complain, regardless of facing an issue.
Which customer profile doesn't complain?
Customer complaints vary, depending on the type of the issue customers encounter. There are the 4-5% who will go above and beyond to let you know something is not functioning properly. But why others prefer to stay silent? Goodman suggests a few simple explanations – from creating an additional hassle, to fear of retribution from the staff.
Another study suggests different explanations for non-complaining customers:
Lack of energy or time on the customer's end
Not enough responsiveness demonstrated from the company
Various personality factors, such as empathy or lack of assertiveness toward the frontline employees of the company
Proactively addressing customer complaints
Brand switch
"Late realization of failure"
In a research, Marsha Richins and Bronislaw Verhage provided a simple explanation why customers complain. The first factor was the brand's reputation – the higher the response rates, the higher the complaint rates. The second and third factor – was the purchase expensive, and the issue they faced was the severe.
Another research gives an interesting perspective on complainers and non-complainers, exploring the situational and individual influences on customer complaint behaviour. The chance of complaint is tightly correlated to the dissatisfaction rate.
Low dissatisfaction: the larger the involvement with the brand, the higher the chance of complaint.
Low dissatisfaction: impulsive customer personalities are likely to file complaints more often.
Non-complainers, too, deserve your attention
It's simple: people talk to other people. The more dissatisfied they are and holding it back, the more likely they are to either not recommend your brand to their network, or even engage in negative word-of-mouth.
Unhappy and upset customers openly share about their experiences with other people. There's a simple solution to that problem: provide a customer experience that makes people happy. Whenever an issue occurs, your only way to understand where you got things wrong is to learn about the issue from your customers. Thus, you will scatter and neutralise the emotional charge that nudges them towards sharing negative feedback with their peers.
The Service Recovery Paradox
The Service Recovery Paradox (SRP) is a situation, described as highly influential on customer behaviour, shifting towards positive sentiment once a negative situation has been resolved in the customer's favour.
A service recovery needs a flawless execution. The wrong strategy leads to higher dissatisfaction rates.
A successful service recovery stimulates customers' repeat purchase intentions, increasing the positive spread of word-of-mouth.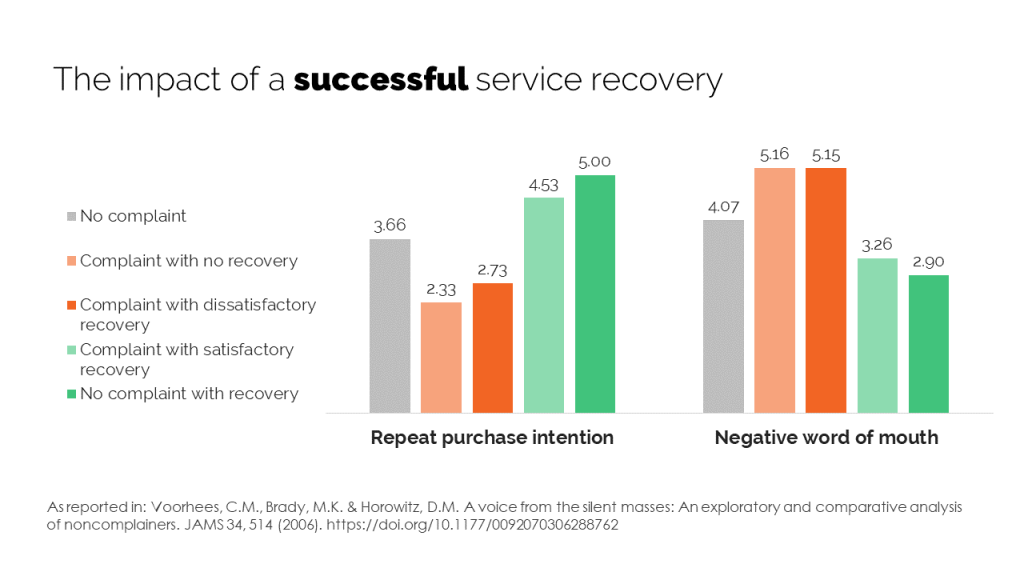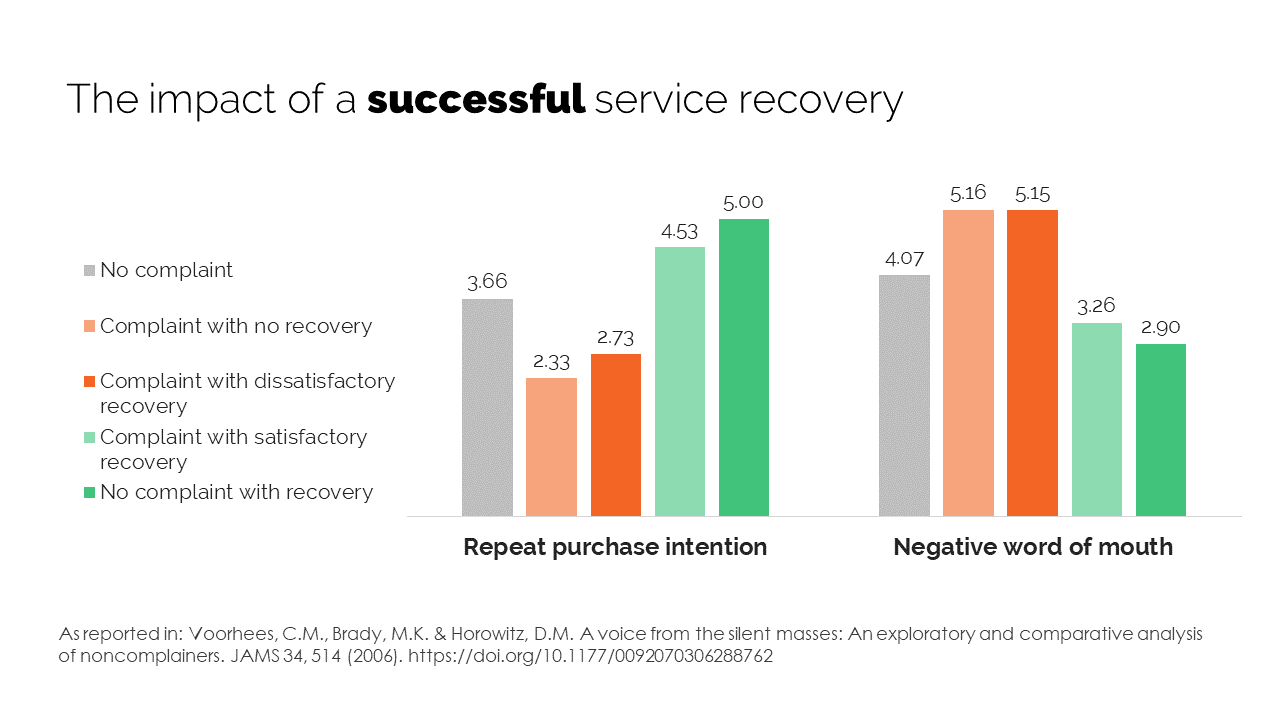 Prashanth Nyer and Mahes Gopinath provided another piece of evidence: 37% of silent dissatisfied customers are likely to spread negative word-of-mouth, in contrast to only 16% of customers, who filed a complaint. Sharing customers' negative experience with a company representative is enough to vent out all negative emotions.
The group with the highest repeat purchase and the lowest negative word-of-mouth intention was the one that received a proactive, company-driven recovery.
Break the silence
Focus on these three customer engagement initiatives: listen, ask, and predict.
Listen and personalise your messaging. This first initiative revolves around actively listening to customer complaints. Such customer analytics data can be gathered through own channels, such as call centres, company website, and emails, or external ones – social media, review websites and more. The listening mode provides for opportunity to personalise and increase the visibility of your channels.
Ask, but don't bombard. Send out surveys. Quantitative methods supply data for deeper understanding of your customer base, and serve as a substantial addition to what you already know from actively listening to your customers. If executed properly, surveys allow for timely replies and personalised approach to customers.
Predict & tie customer analytics to business impact. The predictive mode, like listening, is always on. And like the Asking mode, provides for better and tailored personalisation. It does, however, differ in the massive benefit of allowing you to cover the entirety of your customer base and tie customer data to actual business impact.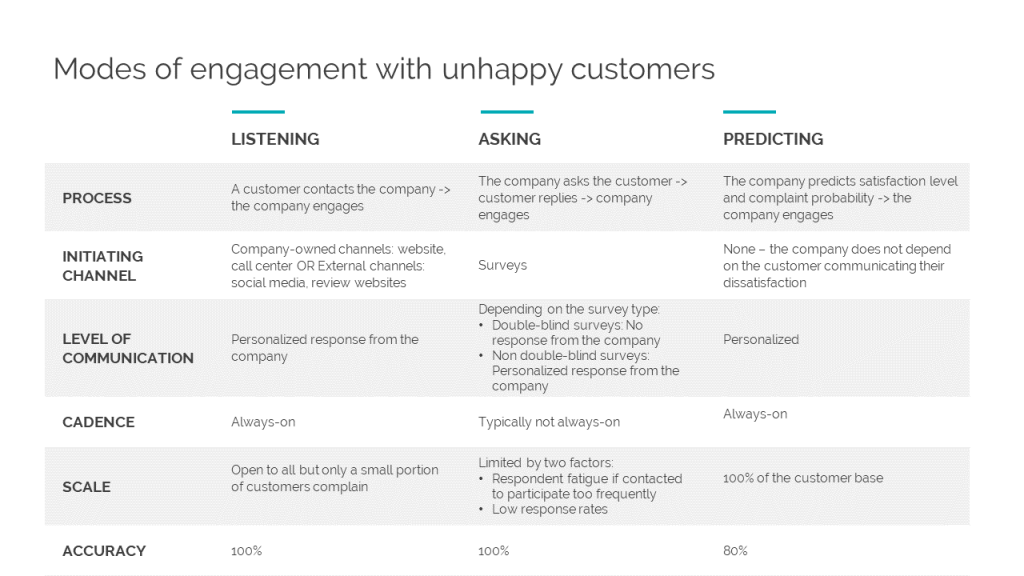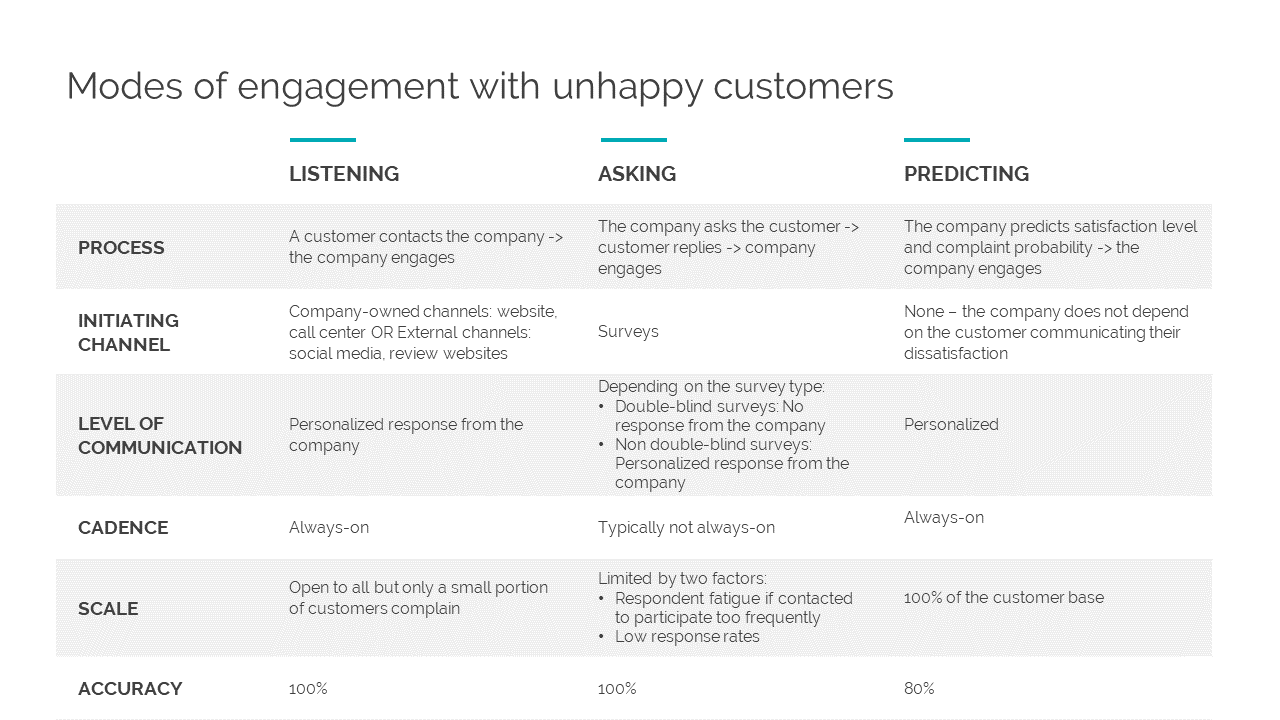 Only predictive mode allows you to put emphasis and efforts on proactive complaint management and bridge the satisfaction gap before it escalates.
Are you ready to take the next step and change the engagement strategy for your with non-complaining customers?