Customer Experience is a very effective competitive differentiation tool for the insurance industry and in the recent years it has been growing in popularity and investments. However, the pressure on CX executives is increasing to demonstrate the clear link between customer experience metrics for insurance and their impact on financials and business growth. Incumbent insurers are competing on a complex and competitive market which abounds in insurtech companies, which have placed customer experience and data at the core of their business models. Therefore, established insurance companies have a huge challenge and opportunity to connect CX KPIs (key performance indicators) with the KPIs of core functions within the organization. This would require a very deep understanding of the customer base, a cross-functional approach and some advanced analytical models.
The three elements of connecting customer experience metrics for insurance with business growth
А company-level understanding that customer experience management should not be an organisational vertical, but a cross-functional horizontal which connects all core business functions
A clear mechanism to identify your most valuable customers and how much revenue can you expect from each. Standard Customer Lifetime Value (CLV) models employed in other industries is unfit for insurance because of two reasons. First, it can't address industry specifics, such as claims, risk & pricing factors, or cost of reinsurance or any contingent commission schemes. Second, because it won't be able to capture the dynamics of customer behaviour, such as the likelihood to recommend you or buy new products.
A way to scale customer satisfaction scores. A standard Voice of the Customer program based on regular surveys usually has a response rate of 5-20%. This automatically means that you are in the blind about the other 80-95% of customers and any decisions you take are based on the feedback of an insignificant portion of your whole base.
Step 1: Position Customer Experience Management as a cross-functional horizontal which connects the dots
In the past years we have witnessed more insurance companies appointing a Chief Customer Officer at board level, but CX is still largely regarded as a separate functional vertical with its own budgets and teams. The obvious benefit of this approach is a very focused team with clear objectives. The issue however is to link CX with the core business functions' KPIs. In insurance these involve:
Sales – How does customer experience impact sales volumes? It might be retention ratio, cross-sell or up-sell. What is the hit ratio? What actions do you need to improve the most profitable sales channels?
Underwriting – How does customer experience help Underwriting to retain and increase loyalty for most valuable clients – the ones which have a positive impact on the combined ratio and are in line with risk appetite and underwriting governance policies?
Claims – How can CX improve user experience during one of the most painful customer journeys? How can we have a seamless FNOL (first notice of loss) processor support from AI tools? What is the entire claim journey and are customers treated fairly? Is resolution quick enough? Where is the right intersection between automation and human touch?
Finance – What is the ROI of the program? Is it self-financed or a budget needs to be explicitly signed off?
Operations – How do you fit all CX improvement actions into the operational model of the company?
If you wish for your CX strategy to be a strategic driver of customer-centricity, it should integrate the relevant customer experience metrics for insurance that correspond to the objectives of all functions within the organisation.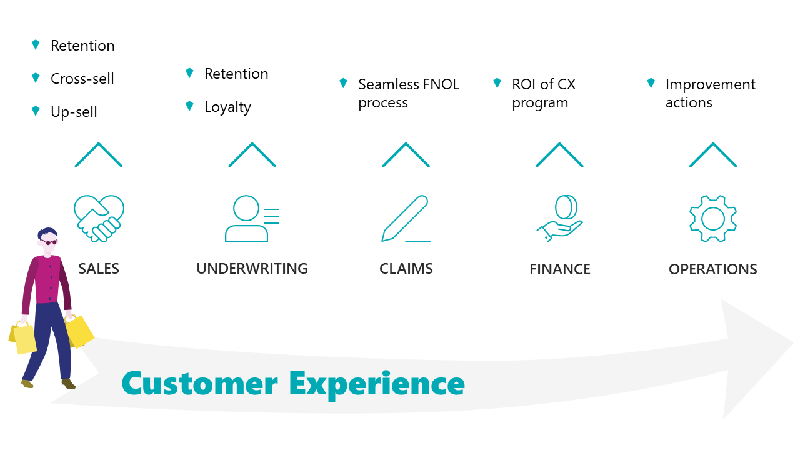 Step 2: Identify who are your most valuable customers with Dynamic Customer Lifetime value
While for a lot of the sectors customer lifetime value (CLV) is relatively easy to calculate, this is not the case for insurance. An insurance lifetime value model needs to incorporate variables which are far outside the scope of standard calculation, such as claims paid, costs of reinsurance, contingent commissions, various risk & pricing factors, etc.
Adopting а data-rich approach will create a link between CX and Underwriting. Having the most important risk rating factors embedded in the calculation of CLV will guarantee that you will focus your CX efforts on those customers which are better aligned with the underwriting strategy for each product line.
Another aspect that needs to be included in the CLV calculation methodology would be the potential of the customer to buy additional products or the likelihood to recommend you to family or friends. Analytics models can help you answer these questions.
Last, standard models are static – they calculate customer lifetime value against a fixed point in future – usually 6 to 24 months. Customer behaviour is much more dynamic, as well as the environment. For example, if you thought you knew the expected revenue per user in the beginning of 2020 when the COVID-19 pandemic was starting to roll through Europe, your calculations became obsolete in a matter of weeks. Using data analytics to develop a CLV model that can reflect "shock events" and recalculate the CLV real-time will give companies the opportunity to take actions to maintain or increase the lifetime value of affected customers. For example, in insurance, this could be an increase of reinsurance costs, or external events like COVID-19 or other important variable in the dynamic CLV model event. You need an algorithm that will give you a dynamic CLV updated on a daily basis to be able to make better decisions faster.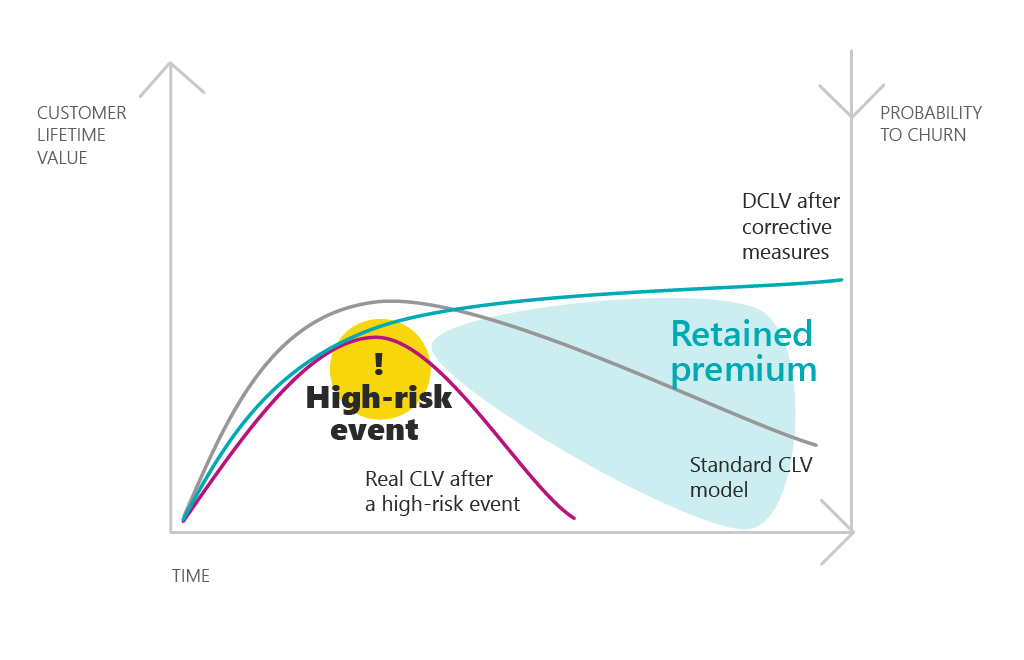 Step 3: Evaluate the financial impact of NPS uplift
Knowing the satisfaction score of each one of the customers with the highest value is fundamental to address their specific needs. Customers with similar NPS scores – e.g. two Detractors – may have different drivers of satisfaction/dissatisfaction.
Furthermore, they may have different lifetime value. Linking NPS scores with CLV will you give you a very important knowledge – what will be the financial impact if you uplift a customer from one NPS group into another – for example passives into promoters. Using data analytics and developing a simulation tool will help you evaluate the financial impact of any CX program or remedy action you are planning to implement. Being able to focus on the actions with the highest ROI will help you build a self-financing CX strategy.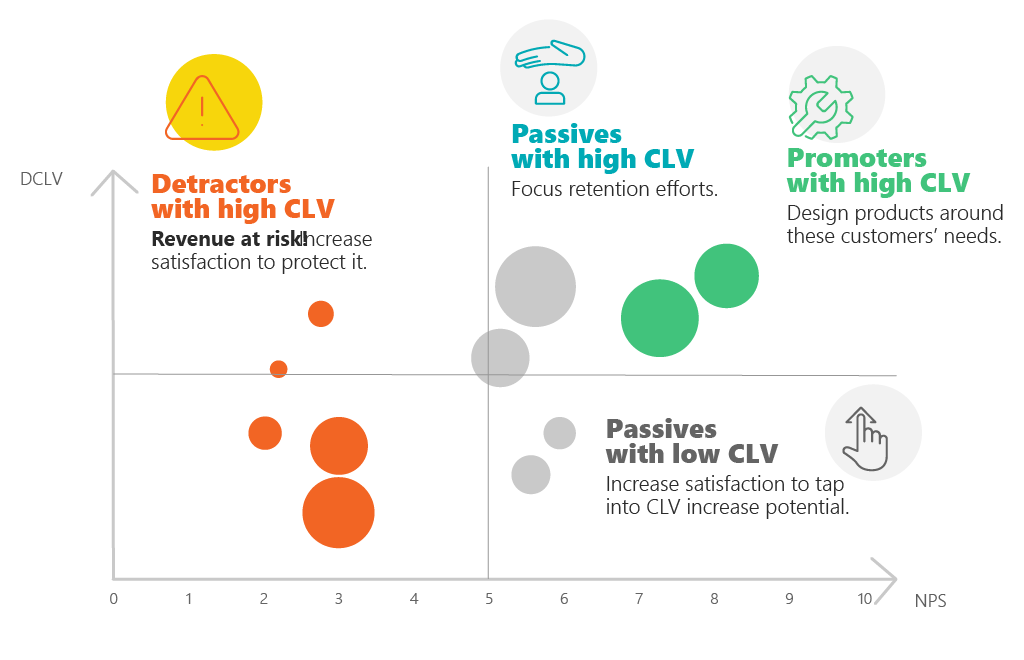 Summary: Deliver on the hygienic CX needs, but expand the program for your most valuable customers
As per Pareto's law, 20% of your most valuable customers bring 80% of your revenue. By addressing the pain points identified by your customer feedback program you are addressing the needs of the average customer. Unfortunately, there is no such thing as an average customer.
While for a lot of sectors this might be a well working model, insurers need to make sure any remedial action is not a driver of dissatisfaction for the 20% of the customers which bring the biggest value for the company. Adopting a "one size fits all" policy may result in an increase in NPS and gross premiums written, but the effect on profit is unknown. Uplifting the program for the customers with the highest dCLV and incorporating the risk & pricing factors into the CLV calculation model will guarantee that CX actually impacts underwriting results as well.
The companies which adopt this approach early will be able to speed up the adoption of its CX program and get wider support within the internal stakeholders. CX will be able to fulfill its main goal – transform the company into a fully customer-centric organization while being in full alignment with core business KPIs.