We had a great night of celebration at the European Customer Centricity Awards yesterday! Three of our clients' core transformation projects won in the following categories:
"Best CX Strategy" for our project with HeidelbergCement: "Business Transformation inspired by a customer-driven strategy"
"Digital Transformation" and "Best measurement in CX" for our project with Signify: "Expanding the scope and impact of the CX program through a digital reinvention"
"Customer Insights & Feedback VoC" for our project with Vodafone Germany: "Personalised and proactive customer service with Customer Event Account"
We are especially proud of these projects because of the measurable and proven impact they have had. They have resulted in increased customer retention and loyalty, improved cost efficiencies and have enabled an internal shift towards customer-centricity, which is a key element of a sustainable business growth.
"Business Transformation inspired by a customer-driven strategy" for HeidelbergCement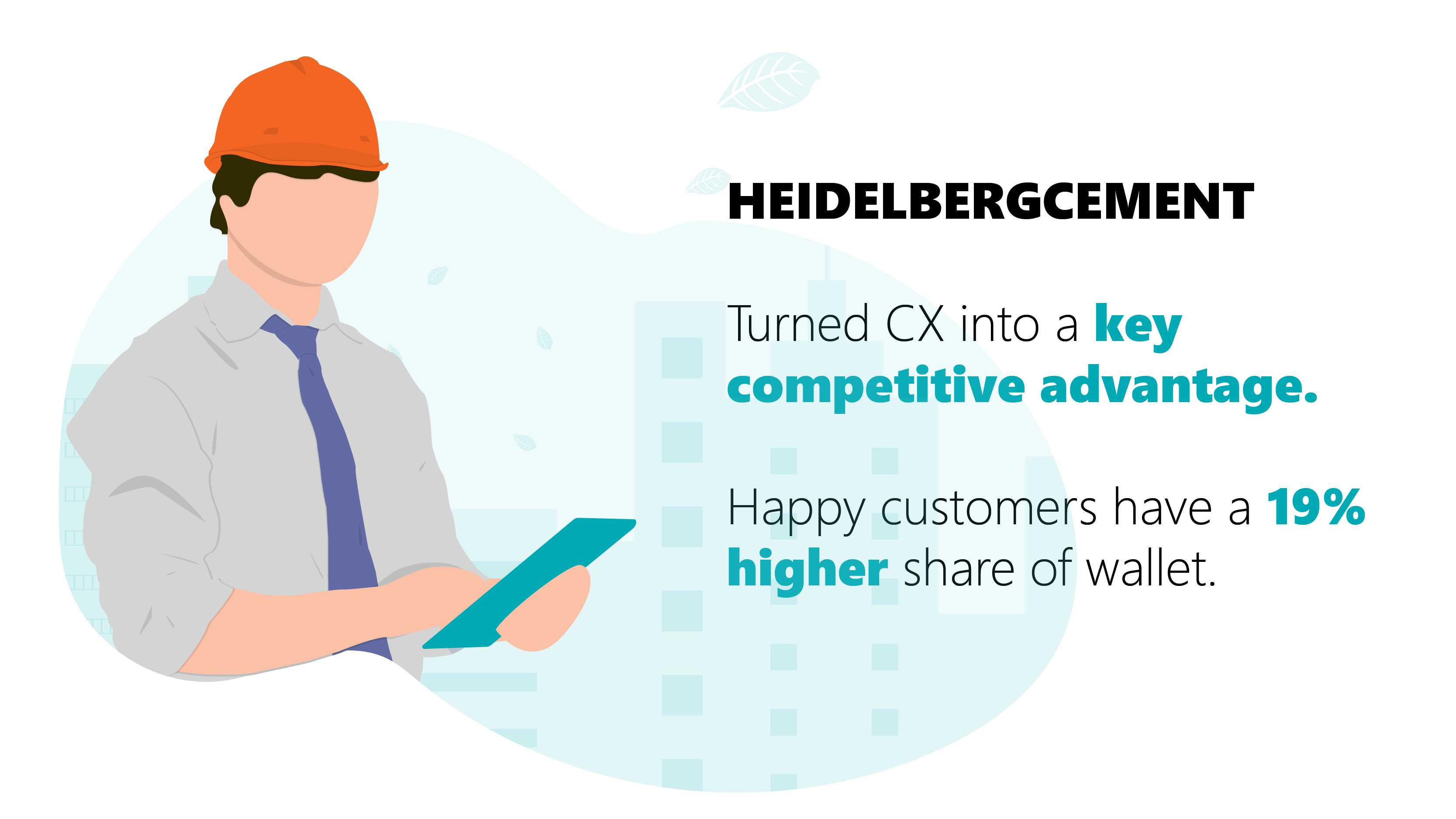 HeidelbergCement embarked on their customer centricity journey in 2013 and since then have been able to harness the added value of great customer experience in an industry, driven largely by operational efficiencies. At the heart of this transformation lie the local teams on 38 markets, who have completed more than 2500 improvement initiatives which have helped them increase customer satisfaction, loyalty and grow business. These range from small things like making sure that delivery trucks are clean to preserve quality of material to company-wide innovations to digitize the customer journey and allow customers to track their delivery truck just like a pizza delivery.
The GemSeek CX platform is the key enabler of analysing customer feedback and coordinating improvement initiatives. It allows each market the needed flexibility to adapt the global CX framework to the local needs. This is a key prerequisite for success for a global company with a complex structure such as HeidelbergCement. In 2019, the company measured a +4 points increase in their global NPS® score, 6 points higher than the industry benchmark. A study at one of the country businesses proved that customers who value their experience with HeidelbergCement higher than other competitor providers spend 19% more with the company. Also, promoters spend 22% more with HeidelbergCement than detractors, and have accepted 3% higher price increases than detractors.
"Expanding the scope and impact of the CX program through a digital reinvention" with Signify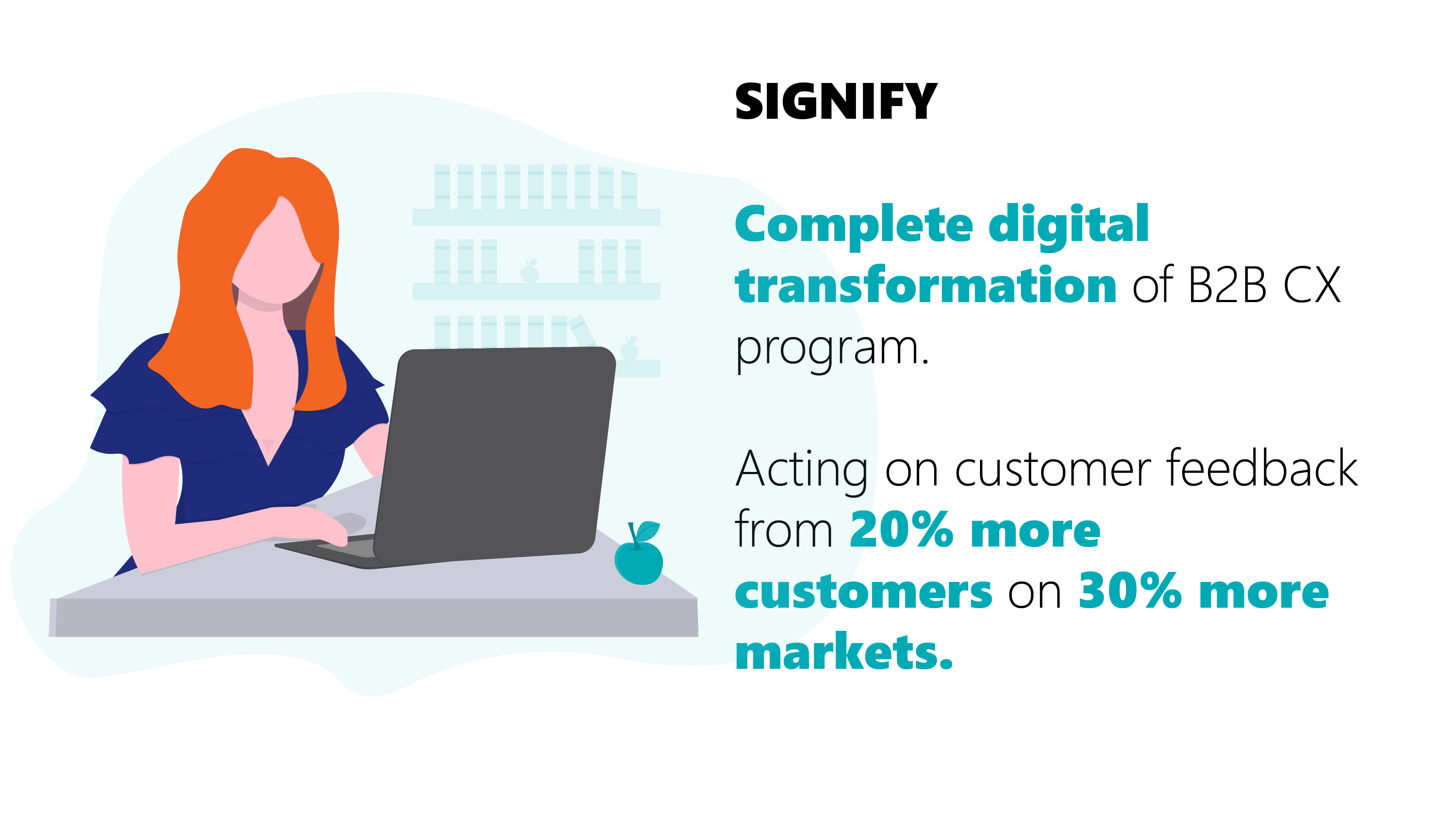 Signify's B2B CX program underwent a complete digital reinvention to improve the company's ability to answer the evolving needs of their B2B customers and the changed nature of their interactions. Instead of doing telephone interviews and PowerPoint reports twice a year, Signify's program is now completely digitized – from surveys to real-time analytical dashboards to improvement action coordination. The new setup allows the company to get feedback more often from 20% more customers on 30% more markets without an increase in program cost. In addition to getting customer feedback closer to the moment of truth, the GemSeek CX platform empowers local Signify teams to act upon it. They don't just solve the individual customer's issue, but also do market deep-dives to understand and act on common issues for customer groups. To date, they have executed successfully over 250 market-related initiatives per quarter with significant operational, financial and relationship impact.
Easy access to insights has a profound impact on employee engagement and understanding of the customer-centric philosophy. People at Signify are not only spectators of NPS dynamics, but are actually empowered to take ownership through the Action Manager.
As a result of this CX transformation and increased focus on improvement actions management, Signify has experienced three consecutive quarters of steady NPS growth since 2019. But what's most important is how the digital transformation of the CX program is inspiring a deeper organizational transformation. A transformation that spans across the whole customer journey and across all functions in the company – from marketing to sales to return policies.
"Personalised and proactive customer service with Customer Event Account" with Vodafone Germany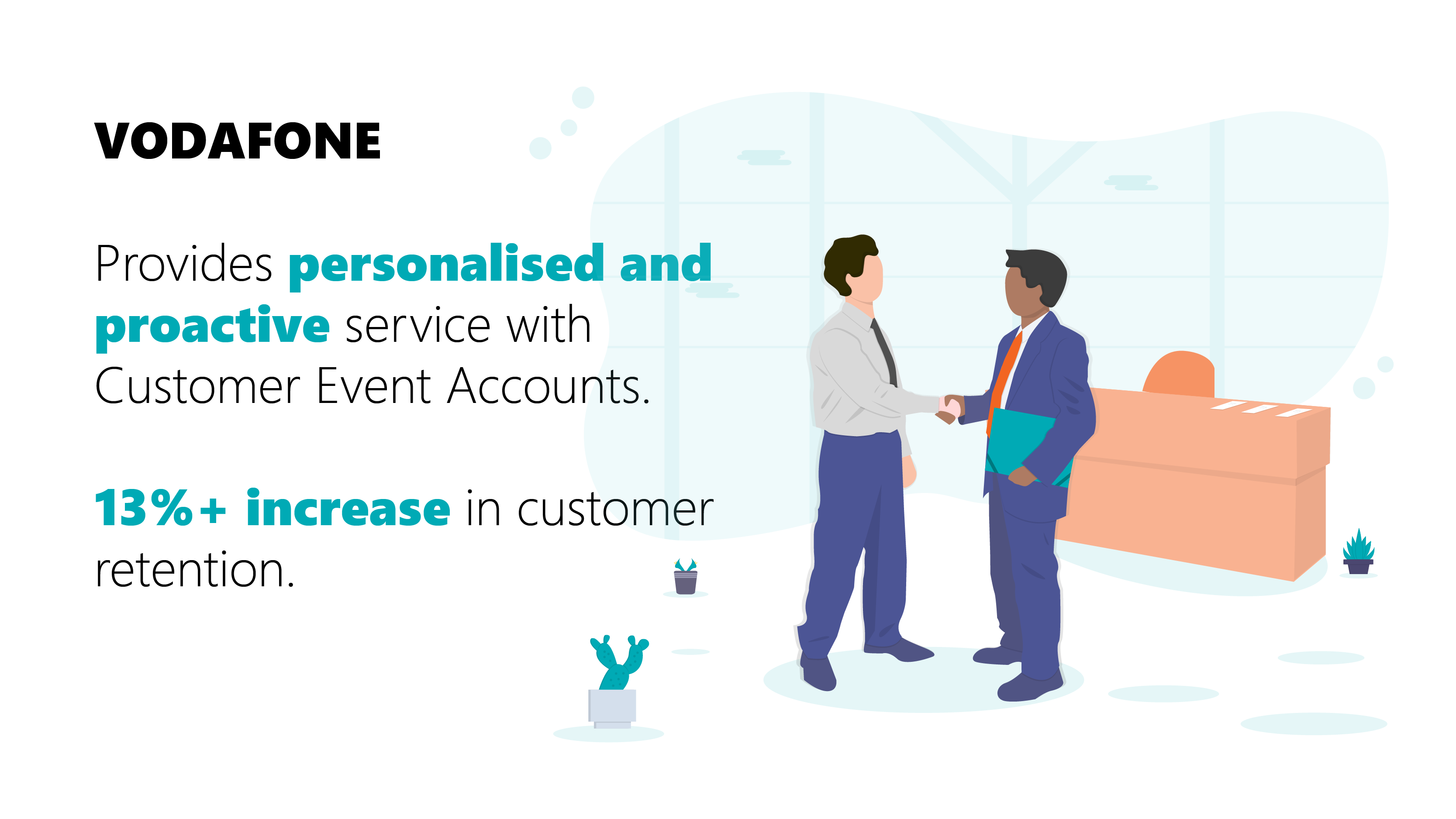 Vodafone Germany employed advanced analytical models to provide personalised and proactive service to more of their customers than previously possible. They created the Customer Event Account – a client dossier which allows the company to understand its customers better. GemSeek solved a key challenge in this project – low response rates of traditional Voice of the Customer Program, which is a significant obstacle to getting in touch with customers who need better service proactively. That's why we developed a Predictive NPS algorithm – a machine learning model that analyses similarities between survey responders and non-responders. Then it assigns NPS scores to the people who haven't answered to Vodafone's surveys.
The Predictive NPS is complemented by the "Next Best Action" module.  The NBA is a suggestion tool. While on the phone with a customer, call centre agents can open it and check what is the current caller Predictive NPS and the best possible reaction to the customer request. In additioan to better handling of inbound calls, the Customer Event Account enables proactive retention campaigns. Customers, who are predicted to experience issues and have a low predicted NPS score, are proactively contacted by e-mail or phone.
The Customer Event account has also had a significant impact on business results. Since the start of the project, Vodafone has been able to retain 13% more Internet customers and 17% more cable TV subscribers that otherwise would have churned.
The European Customer Centricity Awards
The European Customer Centricity Awards took place on September 21-22nd 2020. The awards highlighted the industry's best achievements in 18 total categories. An international panel of customer experience professionals from Budapest Bank, KPMG, LV =, OLX Group, DropBox, Raiffeisen Bank and many others evaluated the projects. More information is available here.