Insurance Data Analytics for Competitiveness and Profitability
When it comes to data analytics, vast unexploited opportunities await in the insurance sector. Pressured by tight profit margins and a flooded market, insurers are not blind to the potential advantages of using new technologies to handle their accumulated data. Powerful as it is, the application of actuarial science in data analytics results in tons of unused data, which leads to lost sales and unrealised profits. Relying on gut instincts when it comes to marketing, sales, and customer experience impacts scalability
Implementing data analytics in the insurance business enhances customer centricity without further complicating the existing processes. Being customer-driven is the key to differentiation and ultimately, profitability.
Three key questions can help insurance companies improve their end-to-end customer journey, and therefore decrease their churn rates, as well as utilise the benefits of real-time data collection and automation of processes.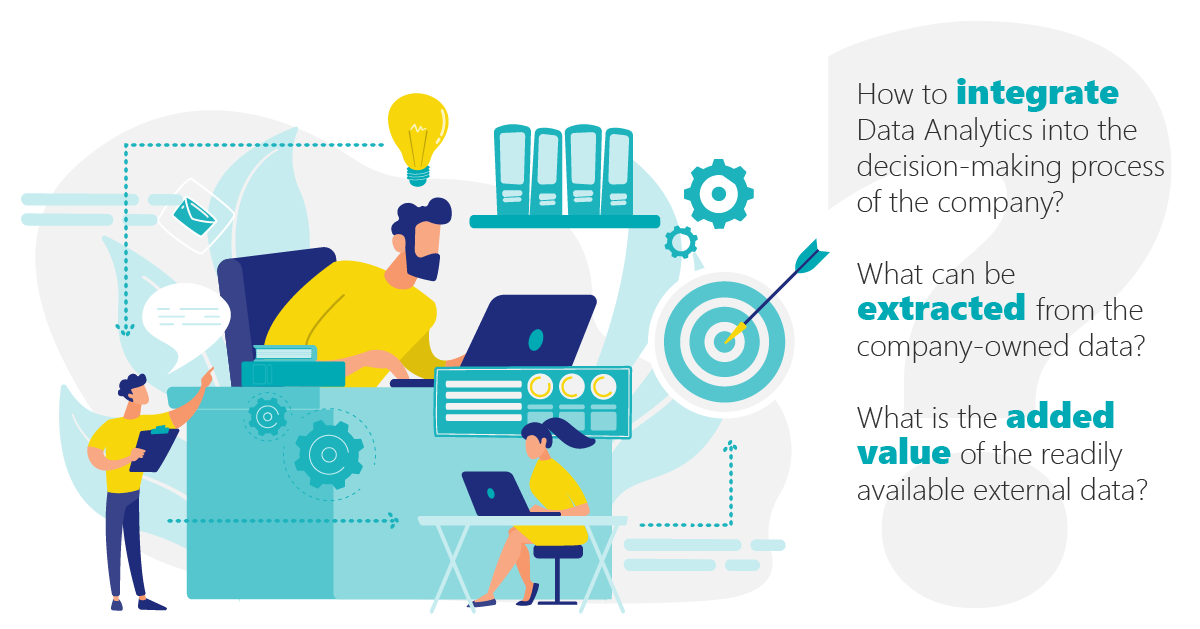 Winning over new customers can be five times as costly as retaining current ones
The biggest value of data analytics and AI lies in improved customer service management which according to McKinsey can result in as much as 46.6% increase in revenue. Attracting new customers is much costlier than retaining current ones. Creating solid, positive relationships with the existing customer base pays off down the road.
Data analytics can help insurers identify the customers most likely to churn by providing granular insights on their behaviours and incentives, as well as the most efficient ways to target and retain those clients.
For example, in the automotive insurance industry, drivers who have participated in few or no accidents are most likely to decide that they no longer need the service. Given that they are the source of the highest profits, the efforts of the insurers should be focused on identifying and retaining them with attractive personalised offers.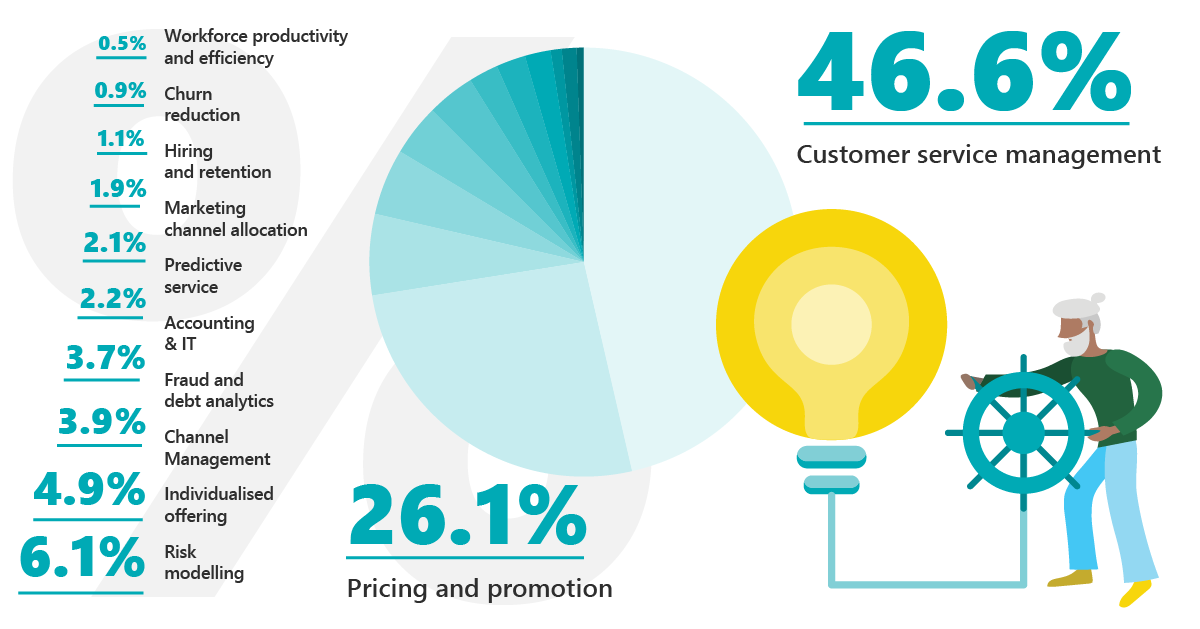 Real-time data analytics make risk assessment easier and more accurate than ever
The outburst of new physical devices communicating information with each other digitally through the unified network of Internet of Things (IoT) has been changing the world of data continuously in the past 20 years. The proliferation of data has created vast opportunities to quickly analyse great amounts of new information.
IoT unlocks actionable insights, such as untapped needs or gaps, which allow for a more personalised customer experience approach, and at the same time reduce the need for face-to-face interactions.
The automotive insurance companies already utilise real-time data collection through telematics (using GPS and other onboard diagnostics to record driving behaviours and movements on a digital map).
Telematics are beneficial for insurers and policy holders alike, as they shift the focus from avoiding mistakes on a large scale by using the "Law of Large Numbers" to predicting individual accidents and offering more competitive insurance products through more granular analysis. For instance, this approach prevents bundling risky drivers together with the safe ones, allowing the latter to pay lower premiums. Furthermore, telematics data adds depth to the analysis of traditional data which previously included only demographics, loss histories, etc.
Process automation can save time, effort, and resources
Automation of processes will not replace years of expertise and professional judgement when it comes to high-value operations. Still, it can come in handy with regards to high-volume and low-value processes. Additionally, automation allows better customer targeting and strengthens customer experience. For instance, it can be used to assess current client needs and provide smart recommendations to customers based on the insights, unlocked by predictive and behavioural data analytics.
Automated data analytics create revenue opportunities within both the existing and the potential customer base and can also alert for threats early on. The integration of artificial intelligence, machine learning, and Big Data analytics allows hundreds of sources to be scanned simultaneously, thus improving application processes and trigger-based analysis.
Why Insurance Companies should link Customer experience to business KPIs?
Learn more about the three main elements that will allow you to build a scalable, CX program that delivers a high ROI on its own and is able to respond to market dynamics.