Are mobile network customers punished for their loyalty?
Until recently mobile, broadband and TV operators used to make £1 billion a year from customers who had reached the end of their minimum contract but had taken none proactive steps to negotiate another promotional deal. The recent rules by communications regulator Ofcom aim to tackle the so-called "loyalty penalty" and provide customers with fairer deals and savings of up to £150 a year per contract.
Understanding Customer Needs: 101 Guide
Turn the end the end-of-contract message into a valuable offer
UTILIZE ADVANCED CUSTOMER ANALYTICS TO SUSTAIN BUSINESS GROWTH
As of February 15th, broadband, mobile, home phone and pay TV companies must notify their customers 10 to 40 days before their minimum contract period ends. Some market leaders, like BT, Sky and Talk Talk already committed to protect customers and help them get fairer deals, but more change is expected to come. Consumer organisations and regulatory bodies remain concerned that the voluntary commitments are not speedy enough or leave some parts of the customer base out of scope.
So we asked ourselves – what is stopping companies from being more proactive about this regulation? One possible answer would be the perception that this will lead to a decrease in earnings and even in customer lifetime value – but this definitely need not be the case!
We at GemSeek excel at helping companies retain their customer base and speed up growth through better understanding and predicting customer needs. Therefore we chose to look at this from a different angle. Instead of a threat, we see an opportunity. We see an opportunity for telecommunications operators to put in place the systems and processes to provide value for the individual customers on an ongoing basis.
This can be done through several simple steps: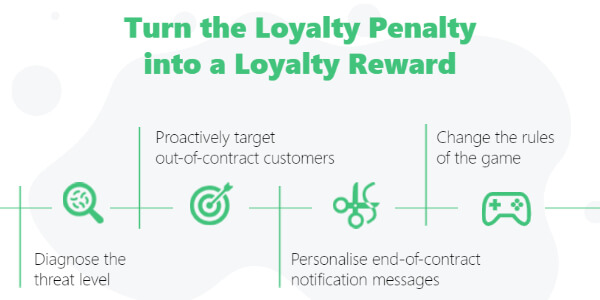 Diagnose the threat level with predictive analytics
Imagine the possibilities if you knew with high certainty (80%-90% with our models) what every customer's current level of satisfaction is and how likely they are to leave after receiving the end-of-contract notification? Advanced customer analytics models allow for an unrivalled precision of prediction down to the level of the single customer. They take into consideration usage and experience data to make predictions for each customer and their likelihood to leave you at any given moment in time.
A question we often get is, how is this different to a standard churn model?
Standard Churn Models:
A model that estimates the propensity-to-churn usually processes historical purchase and behaviour data, but omits a very important factor for voluntary churn – customer experience. Satisfaction metrics can be hard to implement, because of their inconsistency. You usually send out some kind of NPS®, 5-star or other satisfaction surveys, but quickly face the reality of low response rates (between 10% and 20% for mobile network operators). If you know the NPS score for only 2 out of 10 customers, this is very unreliable data to feed into your churn model.
Satisfaction-based model
Models that assign a predicted satisfaction score to each and any customer in your base can quickly remedy this issue. Once you can factor in customer experience, it's a whole new playing field where you can unfold personalised retention, upsell or referral efforts.
Turn the end the end-of-contract message into a valuable offer
Proactively target customers with expired contracts with the best offer
Ofcom estimates more than 20 million customers are currently out of promotional contracts. On average they are paying 20% more (or £150). Some of those customers may not be aware that they are out of contract, but may nevertheless be satisfied with their current plan, service and overall experience. Imagine the disappointment they will feel when they learn that the company they trusted is overbilling them? This is your chance to turn the ship around. What if what they are paying for could be of better value to them?
A reliable way to improve the precision of new offers is to apply enhanced bundle fit analysis to the "expired contracts" segment. Offers that not only protect the average revenue per user but also have a high chance of improving the overall customer experience. A customer analytics model that takes into account the individual level of satisfaction (stated or predicted) and combines it with usage data and historical customer service interactions drastically improves the success of new offers.
What it means in practice – instead of getting an additional £150 pounds a year from someone on an unlimited mobile data plan that they almost never use, offer additional live sports streaming for their brand new smart TV. A model that suggests the best offers at the level of the individual customer will empower you to look at upsell and retention efforts in a whole new way.
It's not upsell anymore, it's a deal that solidifies your relationship with that specific customer.
2. Craft personalised notifications for customers whose contracts expire soon
Most likely, you have already started sending the end-of-term messages to your customers – and maybe you're not sure what will work best. While A/B testing prior the event may be a good way to stress test your ideas, the effect of each message may heavily depend on factors such as the demography of the reader, their specific satisfaction level, product usage, likelihood to churn or to be upsold and more.
Predictive analytics can highlight the key talking points to be mentioned in any outgoing communication. Want to make promises that things will be better? Or maybe you want to remind your customers of all the great moments and service they've experienced in the past? Predictive analytics can provide these talking points by analysing past experience and predicting satisfaction levels.
Different messages will have different success rates though – based on a range of factors which are hard to foresee, but may be easy to predict. As your outbound efforts continue, you will inevitably collect data on the success of each different type of message that you send. In time, you can use this data to train machine learning algorithms to recommend the right message and right wording for maximum impact.
3. Change the rules of the game completely
If a contract is expiring soon there are two scenarios for the customer:
Gets on another contract with you, potentially decreasing future CLV, but at least they stay with you
Goes to a competitor, making their future CLV zero
Mobile network, broadband and pay TV operators can make the most of the regulation-required notifications if they knew how likely a customer is to churn after their promotional contract ends and what offer would they accept most likely.
Predictive models like the Predictive NPS flag customers as "likely to churn" right after a bad interaction. Imagine a customer calling for days, trying to fix some kind of billing issue. A regular churn model won't take this into account, but your customer will remember it and may switch when the right time comes, despite that great offer and tailored message.
These frequent scenarios can be addressed more efficiently if these types of interactions are immediately flagged as a high probability of future churn, even if the customer hasn't filled in any CX surveys. The customer will come up on the "better-call-now" list of the call centre and radically improve the chances for saving this customer.
Not having a fixed churn flag allows you to be more flexible in timings. You can choose the best moment in the allowed 10 to 40 days window and craft personalised end-of-contract notification messages to ensure customers stay with you when the time comes.
Or even better – approach customers well ahead of the end-of-term notification window, course correct and delight. Identify triggers to get them on a next contract and activate them well before the need arises to save your customers. Follow our content to learn more about how to grow your customer base and upsell your customers, using predictive analytics.
When the end-of-contract moment inevitably comes, remember this as a good opportunity to provide greater value to customers. Understand what's important to your customers, approach them at the right time and avoid the end-of-term trap.