GemSeek & Roche nominated to win a prestigious award with pNPS
Best Use of Customer Insight & Feedback
Best Use of Technology
Our teams partnered with Roche to deploy our Predictive NPS (pNPS) model, which assigns an expected NPS score for consumers who had not responded to surveys. We supplemented the predictions with Root Cause Analysis (RCA), an advanced statistical methodology, capturing the causal relationship of drivers and CX, their mutual influence and differentiation.
The two models work together to promote visibility into:
Voice of unnoticed customers
The relationship between drivers and the cause-and-effect
The obvious business benefits and straight-forward applicability of Predictive NPS (pNPS) have received multiple awards over the past years, the latest one being a Special Commendation at the European Customer Centricity Awards.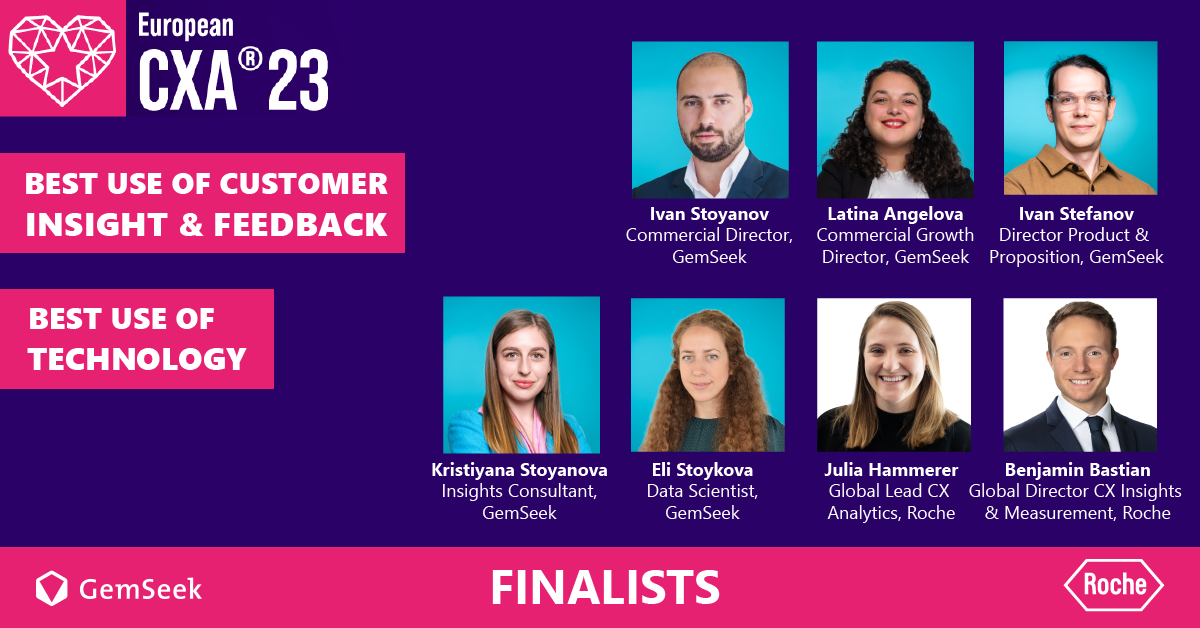 What is Predictive NPS and why to deploy it
Predictive NPS is an award-winning solution that enables your clients not only to understand deeply their customers' behavior but also to predict the satisfaction of non-respondent "silent" customers. This results in:
Decrease cost-to-service
Increase in customer satisfaction
Churn reduction through close-the-loop initiatives
Bigger revenue potential
Better CX program

Being a GemSeeker means being part of a friendly, supporting and inspiring environment. We are proud of our gender equity culture, high eNPS and retention rate, culture diversity and various initiatives:
190 GemSeekers: 43% males and 54% females
High employee satisfaction rate – eNPS of 60 in 2022
7 nationalities: Bulgarian, Romanian, Turkish, Moldavian, UK, Slovak, Ukrainian
30% of GemSeekers are over their 5th year in the company
Leadership Academy and a Mentorship program
We wanted to give you an overall background of our team that makes the great work for you every day. We believe that inspired and happy people are those who can move a mountain together.
REACH OUT
Do you have questions?
If you want to know more about GemSeek's tools and solutions, reach out to your Partnership team or reach out to your single point of contact, Vesela Nedkova (vesela.nedkova@gemseek.com).