Identify & analyse
GemSeek's vulnerable customer experience technology provides an early signal detection of existing text-based data through text analytics and dashboard visualization.
Real time dynamics
Our real-time vulnerability signal detection allows for immediate close-the-loop actions and safeguarding measures.
Proactive protection
The combination of behavioral and transactional data within our predictive models ensures early capture of potential vulnerable customers.
Our vulnerability detection models are based upon guidance by the UK Financial Conduct Authority and other regulatory bodies.
Why is it important to make vulnerable customer experience an organisation-wide initiative?
A vulnerable customer is someone who, due to their personal circumstances, is especially susceptible to harm, particularly when an organisation is not acting with appropriate levels of care.
Increase NPS and customer satisfaction
Your vulnerable customer segment can get up to 30% less satisfied than the rest of your customer base. Identifying them and gaining a deeper understanding of their needs is the main challenge when developing a vulnerable customer experience management program.
Comply with regulatory requirements
The FCA requires "the fair treatment of vulnerable customers embedded as part of a healthy culture throughout firms, not just on the frontline but also in areas such as product development." Complying with all regulatory requirements will protect your organisation from legal actions and fines.
Protect your brand's reputation
Show higher ethics and social responsibility through proactively taking care of your most susceptible segment of clients. Proactive and transparent, vulnerable customer experience policies will protect you from negative word-of-mouth and are a powerful way to fortify your brand.
Vulnerable customer experience in Telco
A leading telecommunications operator tasked us to develop and deploy an analytical model that helps them identify different vulnerability factors. Our vCX tool helped them adopt and deploy a working vulnerable customer experience management initiative within their existing CX program.
How does vulnerable customer experience (vCX) work?
Phase I: Understand vulnerability
We're identifying various sources of data and analyzing it through our proprietary text analytics engine, ontology and taxonomy.
OUTCOME
understand satisfaction and drivers per vulnerability type and plan strategic improvements
capture key compliance risks and take action to mitigate them
evaluate the impact of planned strategy on vulnerable customers
Phase II: Keep up in real time
We're feeding data into our Text Analytics engine. This generates real-time triggers within the current customer experience platform or close-the-loop engine, and fills in our intuitive online dashboards with the aggregated data.
OUTCOME
receive real-time alerts within your CX platform to initiate close-the-loop or other engagement workflows
follow in real-time developments in quantity of vulnerable customers, types and experience
Phase III: Predict and be proactive
Once you have the vulnerable customer experience (vCX) tool deployed within your organisation's ecosystem, you will benefit from advantages from the first two phases and scale them through.
OUTCOME
scale the vulnerable customer experience (vCX) and cover your entire customer base even if customers haven't left any feedback before.
plan strategic improvements and take proactive measures to reduce vulnerability impact
The Vulnerable Customer Experience Factor: Why is it important to measure and improve the experience of your most fragile segment?
Many factors add up to an individual becoming susceptible to poor decisions and payment problems, especially in cases when met with aggressive promotions and sales techniques.
See why it's important to deploy vulnerable customer experience management within your existing CX program and protect that segment of your customer base.
Introduce and adopt vulnerable customer experience management across multiple roles within your organisation
Train your employees to identify vulnerable customers and feed them into your CRM, close-the-loop, and other workflows. Receive real-time alerts within your existing platform to initiate proper engagement workflows with the identified individuals.
Ensure your digital presence and campaigns are compliant with current regulations and identify and plan the inclusion or exclusion of vulnerable customers from direct marketing.
Draw insights from the vulnerable customer experience tool and create and disseminate executive summary reports across the organisation. See through developments in quantity of vulnerable customers, types and experience in real-time.
Evaluate the impact of your planned strategy on vulnerable customers, identify compliance risks and take immediate actions to mitigate them.
The CX Impact Podcast: The Vulnerable Customer Experience
This episode of the CX Impact Podcast emphasizes the importance of having a proper vulnerable customer experience management strategy in place. Seasoned expert Matthew Tod elaborates on how to detect and predict whether an individual is vulnerable or not, how to design better omnichannel experience, train staff, and reduce the risk of not being compliant.
Acknowledge your vulnerable customers have special needs and cater to them
There is no standard vulnerability persona. An individual can become vulnerable at any moment in time due to different life circumstances. Identifying who are they, carefully listening and acknowledging their struggles will help you design and deliver more meaningful and fair experience, reduce risk and loss and increase their individual NPS.
We're helping telecom operators take proactive measures towards aggressive campaigns and sales techniques.
BANKS & FINANCIAL INSTITUTIONS
Our vulnerable customer experience tool assists banks and financial institutions to protect clients susceptible to harm from unfair treatment.
vCX strengthens existing customer experience programs in various industries, such as real estate, by providing improved experience for individuals in delicate situations.
Every 1 in 2 people in the UK will be vulnerable at some point during this year.
Make sure you can protect them if they are your
customers.
Discover our other tools and analytical models to scale exceptional customer experience
It's our core specialty helping organisations design and deliver improved experience across all stages of the customer journey. Our vulnerable customer experience (vCX) tool helps to scale that the segment of clients that gets unfair treatment and is susceptible to harm.
TEXT ANALYTICS
Our proprietary text analytics engine helps CX leaders stay relevant to their customers. We will help you identify raising trends, generate a pool of innovation ideas, optimise your product roadmap, position and fortify your brand.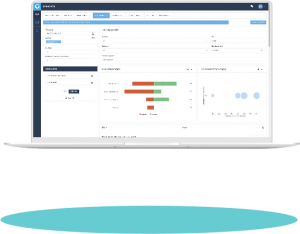 PREDICTIVE ANALYTICS
Our analytics solution helps you combine different data points and behavioral factors into a predictive machine learning model, so you know the satisfaction levels of all your customers, even the silent ones.
CX PLATFORM
Create a 360-view of your customer experience program within our CX platform. Measure impact at every thouchpoint and generate transformative ideas that will help your business grow beyond.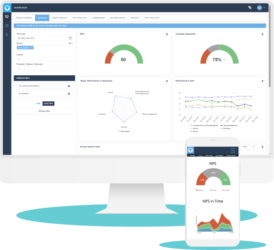 The platform makes it easy to understand unmet customer needs, to respond to the unsatisfied customers and broaden the partnership with the happy ones.
Our business needs to be in a constant connection with our clients as they often switch to another supplier after a single negative experience. Gemseek platform allows collecting feedback after each interaction. Our account managers receive immediate notification and try to resolve clients problems ASAP.
Gemseek platform implementation happened only in a few weeks. With the pre-built questionnaires we were able to have a quick start of our program and to identify areas for improvement.
Delivered in cooperation with Logan Tod & Co: Leaders in vulnerable customer analytics