Roche Diagnostics is a global leader that provides in-vitro diagnostics products and solutions to laboratories. They offer lab professionals a complete set of products and solutions that they can use to run in vitro diagnostic tests. It's a complex industry with long customer acquisition processes and big buying committees with lots of stakeholders involved. That's why Roche puts a big emphasis on retaining and growing existing customers. A key driver of customer loyalty and a differentiator on the market is great customer experience. 
The company has a comprehensive customer experience (CX) program, rolled out in over 50 countries, that captures relationship and transactional feedback and is used to increase customer loyalty. Response rates to transactional surveys in Roche's program varied between 8% and 12% and Roche wanted to create even more opportunities to improve the experience of individual customers through close-the-loop activities, but also get a better understanding of the drivers behind customer satisfaction and prioritise the right improvements in each market.
We deployed Predictive NPS (pNPS) model to assign an NPS score to all customers who don't typically respond to traditional surveys. We supplemented the predictions with Root Cause Analysis (RCA), an advanced statistical tool, which captures the causal relationship of drivers and CX, how they influence and differentiate against one another.
For this project we used more than 14 months of historical data from two markets, including CX survey data (respondents, scores, etc) and operational data (customer service logs and CRM) – compiled and aggregated into a final set with more than 100 composite variables. They were used to develop the actual NPS prediction model. In short, the model works by determining which types of data have the strongest predictive potential if a customer is happy or not and then looks for other customers with similar characteristics and assign a respective score to them.
In parallel, we also developed the Root Cause model, which complements NPS predictions with clear direction what actions and improvements can be undertaken to increase customer satisfaction. The analysis looks into drivers of customer experience at several levels:
Key Driver Analysis, which ranks the drivers by their impact on customer satisfaction
Drivers of Drivers modelling, which investigates the cause-and-effect relationships and mirrors the real world by considering how drivers influence each other
KANO analysis, which supports prioritization by splitting the drivers into groups of "Hygienic", "Must haves" and "Delighters"
The findings from the project help Roche to:
Increase visibility into the experience of customers who don't respond to surveys and enable close-the-loop activities with more customers than through surveys alone
Identify what drives customer satisfaction and where to prioritize improvements
Get validations for previously suspected customer needs and increase confidence to act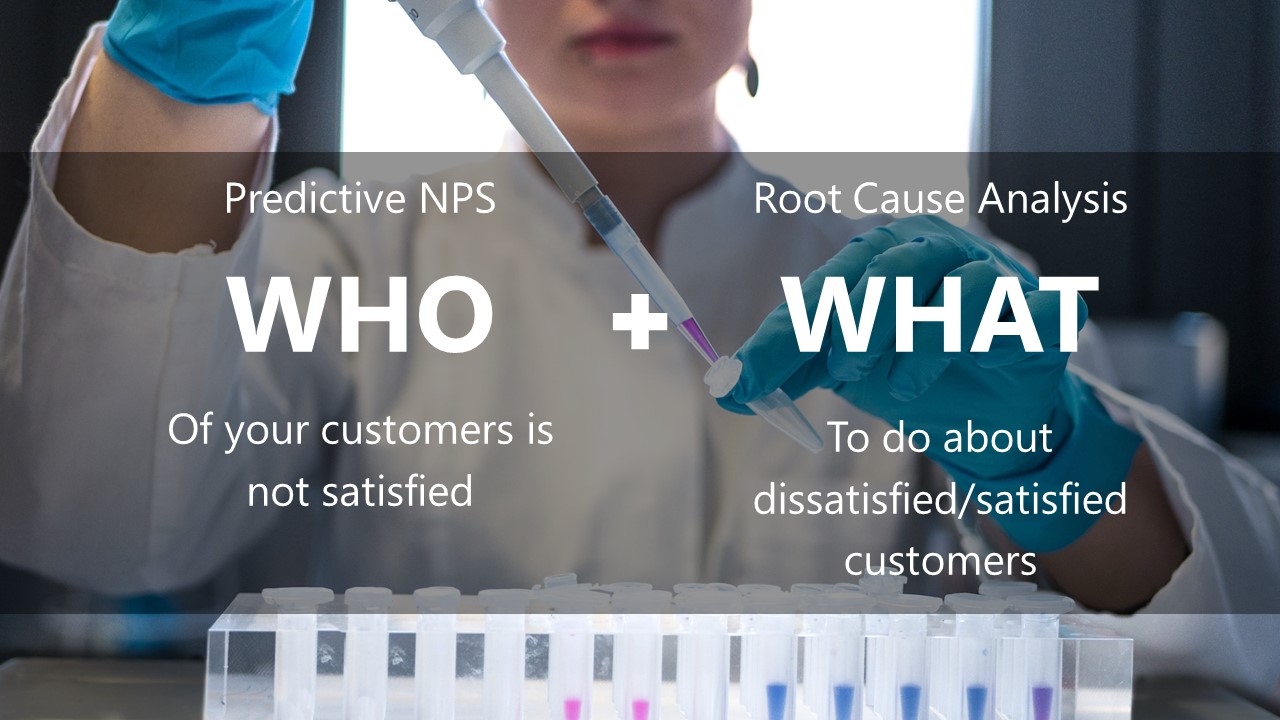 In the first market, one surprising finding was that sometimes premature closed cases within one day could have a negative impact on the customers. To address this, the service team decided to redefine process automation, ensuring a closed-loop connection with customers before closing cases. This change aimed to improve customer satisfaction by addressing their concerns more effectively.
In the second market, the analysis highlighted the importance of effective communication. The company focused on providing customers with status updates on case progress, allowing them to stay informed throughout the resolution process. This improvement in communication aimed to reduce customer anxiety and increase satisfaction, particularly in situations where technical issues affected their experience.
In addition, the deployment of Predictive NPS enabled Roche to identify more detractors than survey results could have uncovered. The likelihood to identify a "silent" Detractor has increased 3-4 times, creating opportunities to proactively treat and retain accounts worth millions on annual base.
Benjamin Bastian, Global CX Insights & Measurement Director, Roche
Roche is currently investigating the possibility to integrate predicted NPS scores side by side the actual NPS results and in existing operational systems to help account teams with greater visibility on customer level. Additional expansions of the projects – across other markets and touchpoints are also under consideration. 
The predictive analytics project with Roche Diagnostics was awarded a "Silver" in "Best use of customer insight and feedback" at the European Customer Experience Awards 2023. 
The project also triumphed at the Customer Centricity World Series 2023. Besides winning in the "Best measurement in customer experience" category and being highly commended in the "Customer Insight & Feedback VOC" category, the entry received the highest score out of all 120 finalists and was awarded the "Overal Winner" title, as well.

About Company: Roche Diagnostics
Industry: Biotechnology research
Company Size: 10 001+ employees
Location: Switzerland
GemSeek Capabilities: Predictive NPS, Root Cause Analysis