UNLOCK YOUR DATA FOR
PROFITABLE CUSTOMER
GROWTH
3 downloadable Blueprints for


TARGETED CUSTOMER ENGAGEMENT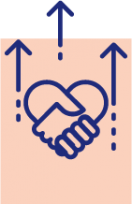 Available now: Retain more customers with better analytics models 
Increase the accuracy, actionability and profitability of customer retention initiatives by expanding your analytics horizon.
Upcoming in May and June:
Increase average spend per user.
Boost referral programmes
Sign up now and get them in your inbox before the others.

Why?
Even though customer churn rates now are lower than usual, customer behaviour is drastically different and some changes will be permanent. Every model trained on data before the COVID-19 pandemic will not be accurate in the new reality.

How?
Reimagine customer engagement workflows and execute better targeted initiatives. Use our detailed blueprints as a reference to enrich your models with additional data sources and equip agents with the right tools to engage customers and increase campaign success rate.
A detailed case study of our award-winning Predictive NPS project, which allows UPC Switzerland to keep 34% more customers each year.
At GemSeek we use data, technology and analytics to predict what customers will do next. We help companies take the right decisions about products, marketing campaigns and customer initiatives – translating into higher revenue growth, higher customer satisfaction and higher marketing ROI.
Read more about how we help telecommunications leaders grow their business.