CUSTOMER VALUE EQUATION
IN CHALLENGING TIMES
Profitable customer retention and growth initiatives with predictive analytics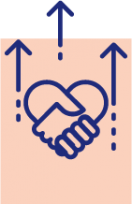 3 successful strategies how to thrive in challenging times
Based on industry analysis of the most resilient telecommunications operators during the last big economic downturn.

A ready-to-use workframe
A 3-stage workframe which outlines the levers for impact and the analytics models that power them.

A breakthrough outlook on your existing data
Еnrich your models with additional data sources and equip agents with the right tools to engage customers and increase campaign success rate.
At GemSeek we use data, technology and analytics to predict what customers will do next. We help companies take the right decisions about products, marketing campaigns and customer initiatives – translating into higher revenue growth, higher customer satisfaction and higher marketing ROI.
Read more about how we help telecommunications leaders grow their business.