Signify is the world's leading smart lightning provider. The company caters to both the professional and the lifestyle segment, delivering connected lighting systems and data-enabled services. For years now, the Net Promoter score (or NPS) has been a part of the company's incentive scheme.
However, Signify's customer ecosystem is complex and it's also changing. Wholesalers, specifiers/architects, installers, professional end users, retailers, all have different interactions and experiences with the company. They expect similar excellent experience, just like the ones they would have from a B2C company in their private time. And because the commitment to their customers was a key pillar of Signify's strategy, in 2019 the company initiated a complete digitization of our customer experience management program, as well.
The digitization had two main goals:
Better understanding of customers. Up to a few years ago, it was enough to call B2B customers twice a year, spend a few weeks preparing a PowerPoint report, present it to key executives and then wait for their improvement decisions to slowly trickle down to the different functions and markets. But that's not the case anymore.
Put customer insights to the best use, quickly. The aim was to empower people situated at the friction point to move quickly and take ownership of the improvement process.
Our main task was to support Signify through the digital transformation of their CX program and provide the needed technology to enable adoption, engagement and ownership among key stakeholders involved in the CX management, but other executives, as well.
The success of the new digital setup is founded on three main pillars:
It accelerates the impact of the CX program.
It allows for radical transparency across all functions and levels.
It empowers Signify's employees to take ownership of customer-centric improvements.
First, the digital survey and closed-loop setup accelerates the time to value and increases the scope of the program significantly. Customer feedback is more frequent and closer to the moment of truth. Also, the time from trigger of event to the actual closed-loop action is drastically shortened. Instead of reporting results once or twice year, Signify now studies relationship NPS each quarter. We also have transactional event-triggered surveys to complement the relationship data we gather.
Since we moved to a fully online CX collection and measurement, in 2019 they have been able to reach 20% more customers on 30% more markets and act more and faster all within the same budget. The current close-the-loop process is also very dynamic. 80% of identified Detractors are called back within 72 hours after survey completion.
This is done by the Customer Satisfaction Manager on each market (usually a member of the management team). He has the seniority to send across the message about feedback importance, as well as the distance from sales to have an open conversation and identify the root cause of the problem.
But work doesn't end up with just solving the individual customer's issue. Signify executives go one step further and within 2 weeks they do market deep-dives to understand and act on common issues for customer groups. At the end of the quarter, they communicate the improvement results to our customers. To date, Signify team members have executed successfully over 250 market-related initiatives per quarter with significant operational, financial and relationship impact.
And because all close-the-loop actions are managed through the Action Manager module of the CX platform, they were able to study them overtime and identify global structural issues, deeply anchored in our operations. Second, an active data model allows Signify to be radically transparent about customer feedback. 2 years ago CX managers used PowerPoint reports to share insights and activate them via face to face workshops. However, they needed a much more agile process, because data and insights are worthless if people can't integrate them into their daily work. We created custom real-time analytical dashboards.
These dashboards allow Signify to move to a model in which they still do regular strategic reviews, but also keep their finger on the pulse of the customer on a daily basis.
As to the third pillar, easy access to insights has a profound impact on employee engagement and understanding of the customer-centric philosophy. People at Signify are not only spectators of NPS dynamics, but are actually empowered to take ownership through the Action Manager. This has significantly improved the credibility of the program and has helped us initiate an internal culture transformation.
Key Project Success Metrics
As a proof of increased internal engagement as of May 2020 we have 1.687 active users of our platform coming from 112 markets. Empowered employees go hand in hand with improved customer satisfaction. Signify achieved a 37% response rate (global) via personal sales engagement with the customer, without providing any incentives.
Increased reporting speed & efficiency
Instead of reporting results once or twice year, Signify now studies relationship NPS each quarter. They also have transactional event-triggered surveys to complement relationship data. Since they moved to a fully online CX collection and measurement, in 2019 they have been able to reach 20% more customers on 30% more markets and act more and faster all within the same budget.
Improvement through timely action
The results of the real impact are easy to notice within the actionable improvements, spread across the whole organisation.
Operational improvements – 80% of all identified Detractors are contacted back within only 72 hours.
Market improvements – created a process for following a strict and actionable improvement plan, and later communicating the results to their customers.
As a result of the CX transformation and increased focus on improvement actions management, Signify has been witnessing three consecutive quarters of steady NPS growth since Q3 2019. By Q2 2020 our NPS had increased by 10 points.
Executed over 250 market-related initiatives per quarter, resulting in significant financial, relationship and operational impact.

tweet
But what's most important is how the digital transformation of the CX program is inspiring a deeper organizational transformation. A transformation that spans across the whole customer journey and across all functions in the company – from marketing to sales to return policies. Just a few examples:
The marketing teams use NPS insights to improve the navigation of the websites and online content strategy. At the request of their customers Signify has focused a lot of communications efforts into education of the public about energy saving products and smart controls solutions and how they impact comfort, safety, and the environment.
On some European markets Signify uses individual customer feedback to identify "personality mismatches" between customer and sales reps and change assignments when needed.
On a global scale NPS insight revealed that the sales role has changed from a traditional rep of conventional lamps to an expert and advisor for Lighting systems and services. That's why Signify has invested efforts into training their commercial teams in consultative selling and support them with advanced CRM and knowledge tools to become true customer heroes.
In the future Signify is aiming to expand the impact of their CX program even further. They will also aim to increase the quantity and end impact of improvement initiatives by introducing machine learning models that provide suggestions for next best actions and estimate the financial impact of each initiative.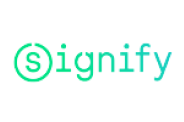 Industry: Electrical & Electronic Manufacturing
Company Size: 10 001+ employees
Location: Global
GemSeek Capabilities: GemSeek CX, Advanced Analytics, Market Research