Strict regulations, data security concerns and public ownership have slowed down the healthcare industry on its journey to patient centricity. However, there is a growing consensus about the importance of patient and customer experience digitalisation and automating parts of the process through AI technology.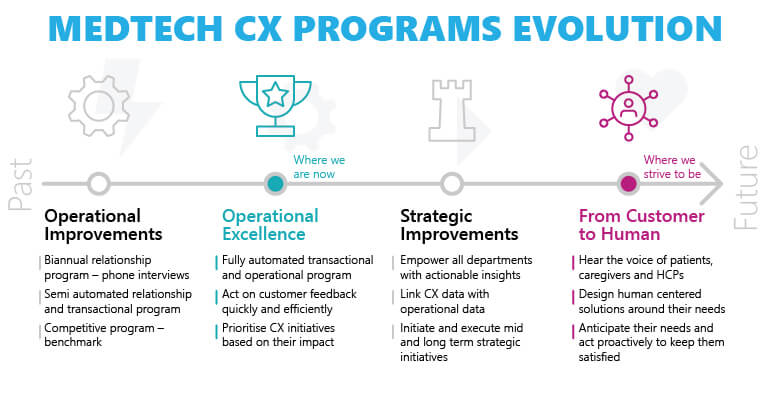 How your CX program looked in the past?
We helped many MedTech leaders create or revamp their customer experience program. The scope and coverage varied depending on the size of the company, existing internal processes and product service portfolio. In its early days, CX programs were limited to running phone relationship surveys biannually. Phone relationship programs indicated how a brand is doing and allowed asking additional questions to better understand customer experience. The quality of the additional feedback was highly dependant on the moderators' skills. From today's perspective, limitations exceed the benefits.
Limited visibility and overstated NPS


Sales and account managers were sharing the contacts of satisfied customers only. Another con were the calls in advance, asking respondents to give 9 or 10 on the NPS question.
Static view increased the risk of losing valuable customers


Companies collected feedback every 6 months. Thus, allowing customer dissatisfaction to grow big – even to a decision to switch from one vendor to another. Such examples might be a delay in consumables delivery or long MRI downtime. The information about such issues never reached the global team on-time. Often this severely hurt the relationship with the customer.

High cost and difficulties scaling


Phone interviews were expensive and slow to execute. Response rates were low. Imagine running a multinational program in 48 markets. To do so, one had to find moderators in multiple languages and train them. Analysis was often manual, hence prone to many mistakes, giving non-reliable results later than needed.
How's your CX program looking now?
Today's MedTech CX programs have evolved. Some use online surveys to evaluate customer satisfaction. Others went a step further and are continuously measuring the experience of nurses, clinicians, hospital C-suite and admins after each interaction with the vendor. Not only do they aim to excel at each step of the customer journey, but also benchmark versus their key rivals. The ideal customer experience program comprises a few fundamental elements:
Long-lasting strategic partnerships


Today's providers expect commitment on shared performance KPIs. They look for a reliable partner who can aid their business growth, achieve cost-effectiveness and increase predictability. Hence ultimately improve patient outcome, and provide resources or expertise that might lack internally. Vendors transform their offerings to supply end-to-end solutions across multiple departments (e.g. Cardiology, Radiology, ICU) and entire facilities. Signing a standard service contract to receive technical and clinical support is not enough. Providers need strategic partnerships to create innovative solutions to their occurring problems.

Complete customer journey coverage and tracking


MedTech leaders use CX management platforms to guarantee they cover the entire customer journey. From pre-sales through delivery, installation, training, clinical and tech support, to service maintenance, repurchases and upgrades. Automatic triggers after each interaction provide timely feedback in the moment of truth.

Closing the loop in real-time


Based on pre-defined rules (e.g. low NPS score or negative sentiment), cases are created. The call center agents review most of the cases. The agent approaches the customer or assigns the case to a stakeholder within the organisation. Operational and tactical improvement projects are based on the customer feedback.

Prioritising CX initiatives based on their impact


MedTech companies prioritise projects to maximise the customer impact. Major factors are improvement of clinical outcomes, operational efficiency, adopt value-based care models and provide high quality affordable services.
What the CX future holds?
MedTech industry will continue to grow on a faster pace. Massive healthcare investments will require quicker adaptation and further advancement of your CX program, mirroring the increasing complexity in the sector. What else is likely to occur?
Designing human-centred solutions based on patient and physicians' feedback


Boundaries between CX and patient experience will blur. As a MedTech CX manager, you will need to understand the needs of patients and HPCs. Your CX program will need to broaden its coverage to capture patient experience. Thus you'll be able to design innovative human-centred solutions and respond to patient and HCPs' needs. Furthermore, you will be able to provide the already highly demanded patient experience insights to hospitals and clinics.

Provide role-specific insights to each team member


The more stakeholders you have, the higher demand there will be. Your current insights feed shall expand – from marketing, sales and service teams, to installation, clinical and technical education, finance and more. New teams will be formed to cover PX, predictive maintenance and APP store. Real-time insights for specific domains will become a standard. The tipping point of turning them into advocates of your program will be the deep-dives into why, what, who and how, not the old-fashioned scores. Actionable insights will become vital to take the right patient and HCPs driven decisions daily.

Predictive real-time account score

As a MedTech CX leader, you stakeholders expect you to anticipate HPC and physicians' needs. Adding a vast amount of data such as financial, sales, CRM, equipment uptime and usage sources will become a prime responsibility to handle. Identifying the link between CX and other metrics will be crucial to sustain your competitive advantage. Taking a step further, you will calculate a single account level pulse score. Leveraging on predictive algorithms will enable you to identify future growth opportunities, improve prospects, targeting and sales efforts. Thus, you can focus on deals with the highest value and chances of winning.
Depending on the resources you've invested into your MedTech CX Program, you find yourself at a different maturity stage. No matter the journey point, be sure to create a clear roadmap and define success. Ensure you're listening to patient, healtcare professionals, C-Suite and admins to understand their human, clinical, operational and financial needs. Hence, act upon them. A combination of all operational, tactical and strategic level initiatives ensures the proper CX program impact measurement.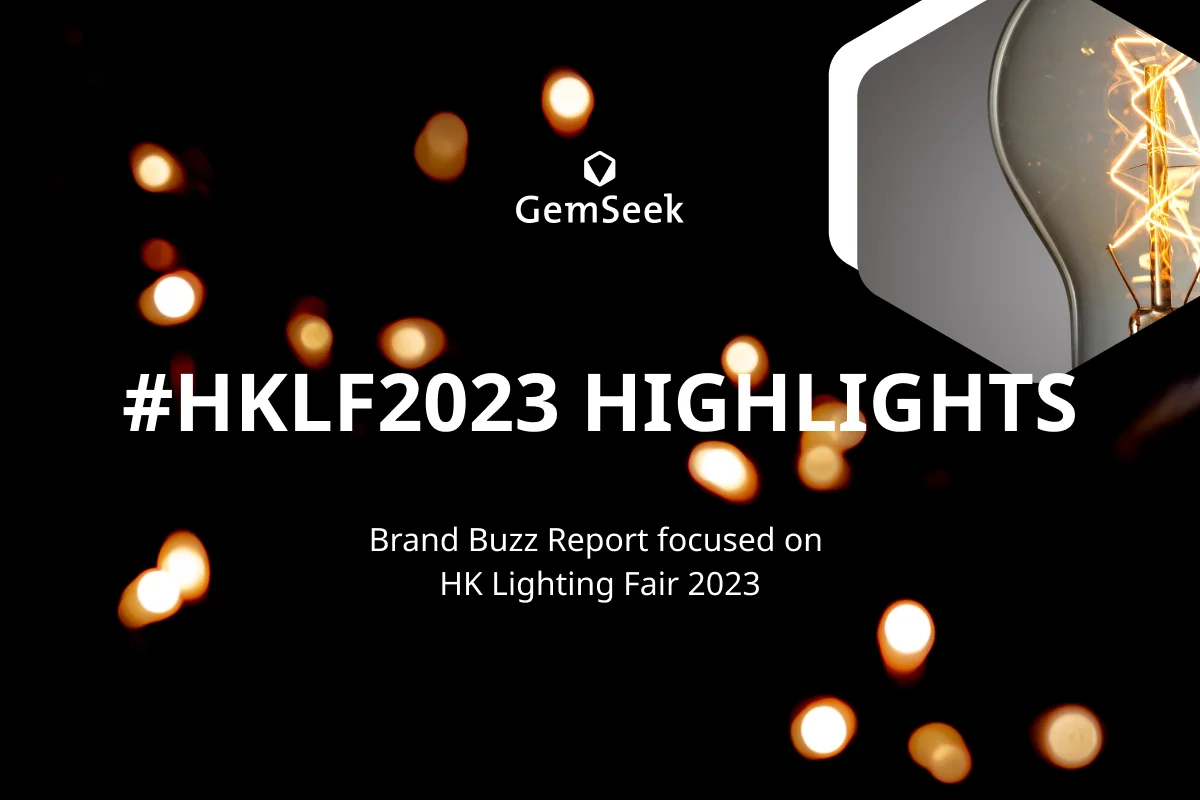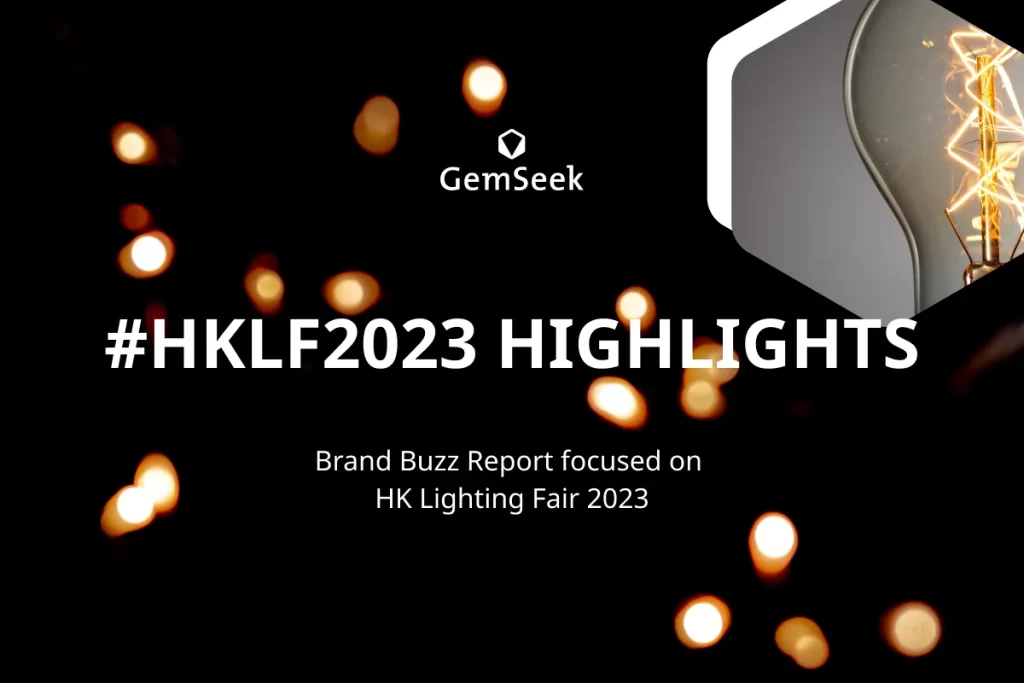 А report analysing social media conversations that identifies the most discussed key event topics and the top performing brands during their presence at the Hong Kong International Lighting Fair 2023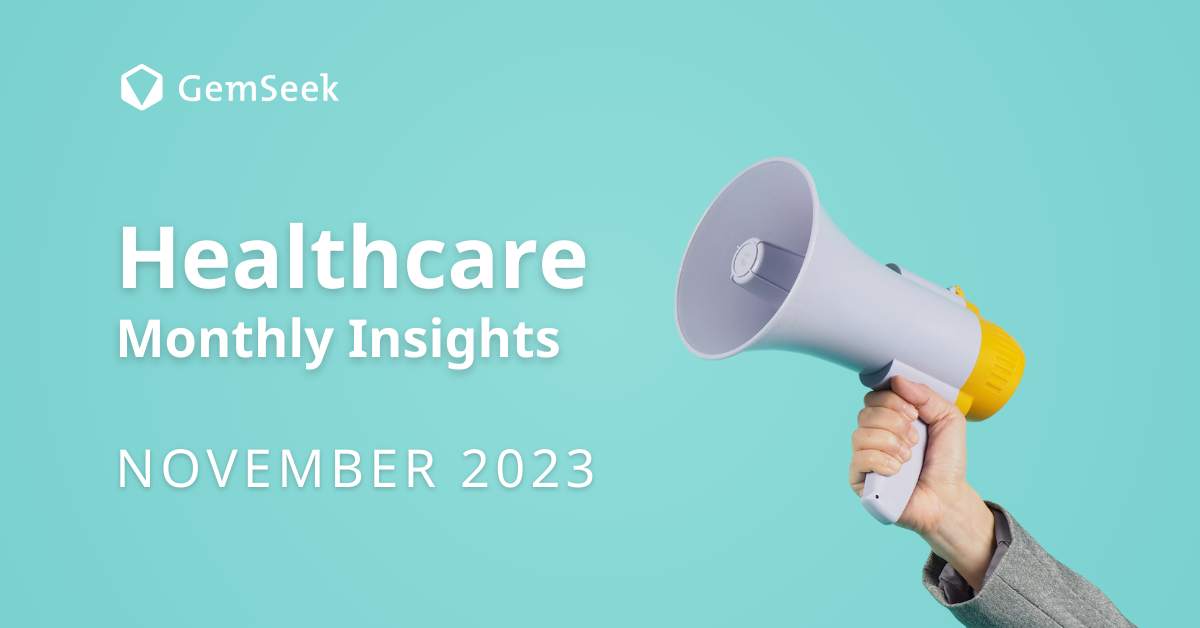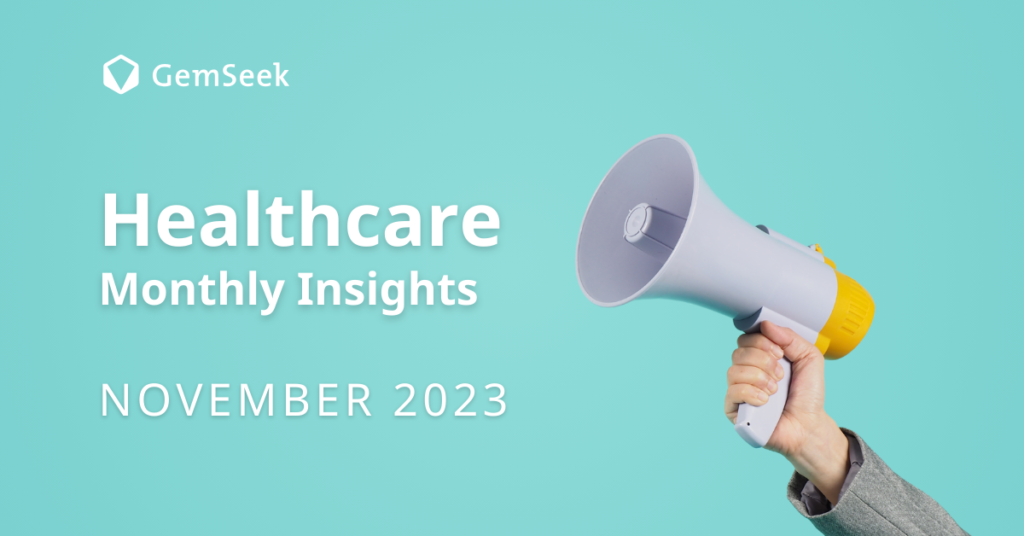 Get early access to post-event insights from RSNA 2023 and request your free Brand Buzz report. Unlock post-event insights from EACTS 2023 in our Brand Buzz report, analysing online discussions, trends, top brands, and influential voices in the cardio-thoracic field.